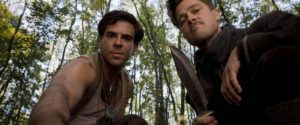 Inglourious Basterds
4 Stars
Director

Cast

Brad Pitt

,

Christoph Waltz

,

Mélanie Laurent

,

Michael Fassbender

,

Diane Kruger

,

Eli Roth

,

Daniel Brühl

,

August Diehl

,

Mike Myers

,

Samuel L. Jackson

Rated

R

Runtime

153 min.

Release Date

08/21/2009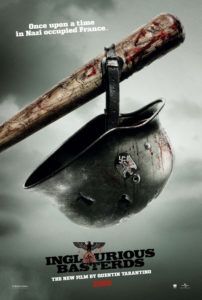 Quentin Tarantino's Inglourious Basterds represents an incomparable celebration of cinema, both in terms of the technical filmmaking, and how movies provide a freeing sense of diversion. No director working today demonstrates this better than Tarantino, who's earned his idiosyncratic Hollywood persona by inserting movie references into the dialogue and formal presentation of his films. But with this picture, more than any other in his career, he acknowledges the power of cinema to transform reality, to entertain through raw stimuli at any cost, even if it means reformatting history to accomplish these tasks. By employing and highlighting those cinematic traits, which he values so much, Tarantino pays a superb tribute to his chosen art form.
Set in France during World War II, the film's first chapter begins like a Sergio Leone Western, called "Once Upon a Time… In Nazi-Occupied France" no less, with long takes and brooding close-ups. Even a bit of Ennio Morricone music for good measure. The entire film incorporates plenty of war movie truisms, too many to list them all. Consider the British debriefing where General Ed Fenech, played by Mike Myers under inches of makeup, outlines the film's remaining scenario about midway through; countless war movies scenes like this make us laugh, as we wonder how stuffy Brits ever got gung-ho on the battlefield. Or take the first scene, an interrogation of a French pastoral family by ruthlessly clever SS Colonel Hans Landa (Christopher Waltz). How many suspenseful war movies have you seen where a German interrogator sniffs about for hiding Jews? And yet, Tarantino enlivens these formula scenes to make them fresh and exciting, largely through his flowing dialogue.
The structure lays out three plotlines and eventually brings them crashing together. First comes Landa's interrogation at the French dairy farm, where he finds Jews hiding of course, but this is also where we meet the film's two most intriguing characters. Waltz, as Landa, steals the show, creating a twisted combination of monstrous Nazi and ingenious detective, an amalgamation of Amon Goeth and Sherlock Holmes—he even smokes a cartoonishly large pipe for emphasis. To quench his unruly ego he asks the farm's paterfamilias about the rumors surrounding his nickname, "The Jew Hunter", and appears overjoyed when the farmer knows of them. Waltz is nothing short of brilliant throughout the picture; no wonder he won the Best Actor award at Cannes.
Landa rustles up Shosanna (Melanie Laurent), the film's second most intriguing role, from the floorboards, and she escapes with her pursuers having never seen her face. She flees to Paris where she "inherits" a cinema, and under an assumed name, she runs the movie house quietly, showing German films that propaganda minister Goebbels (Sylvester Groth) would approve of. (And some he wouldn't. She also shows Le Corbeau from 1943, the French anti-informant film then banned by Germans. Cinephiles will appreciate Tarantino's nod to this masterpiece by Henri-Georges Clouzot.) Through German war hero and movie fanatic Fredrick Zoller (Daniel Bruhl), she devises a plan to get revenge on the Nazis. Laurent recalls Carice van Houten's performance in Black Book, as both are similar roles; only Houten didn't have David Bowie's "Cat People" to back her up. Thank Tarantino for that off-period garnish, as well as other post-modern flourishes.
The title comes from the 1978 film Inglorious Bastards, but Tarantino claims he won't divulge the purpose of the misspelling. Here the name "Inglourious Basterds" applies to a group of Jewish-American soldiers assembled to strike fear into the hearts of Nazis. The Basterds take orders from Lt. Aldo Raine (Brad Pitt, whose character's name sounds unmistakably like B-movie actor Aldo Ray), a Tennessee boy whose drawl backs up his unrelenting desire for killin' Germans. Pitt clearly has a blast with the role, half-smiling through some of it; but that's part of its appeal. His recruits—including horror director Eli Roth as the baseball bat-wielding Sgt. Donny Donowitz, known to Germans as "The Bear Jew", and the tightly-wound Sgt. Hugo Stiglitz (Til Schweiger)—each work to fill their "debit" (e.g. debt) of 100 Nazi scalps, a fleshy balance charged by and owed to their lieutenant.
Long conversations still make up the majority of the film, despite the war movie landscape. Bloody and gruesome when it needs to be, the film's intelligent prose makes up the majority of the two-and-a-half hour runtime. After all, it's a Tarantino film. He creates unbearable suspense in a number of scenes where Nazi authorities try to talk their way into a Basterd giving away their identity. Such conversations, as Tarantino assembles them, are brutally funny and wrought with tension. Here is where Waltz and Laurent are best used, winding the audience up around hard-boiled conversation built on deceptions. Though Tarantino's schema of late is to surround A-grade dialogue around B-movie scenarios (such as Death Proof or Kill Bill), he could easily advance to making an involving thriller with his talents.
And so, his script does something his audiences should expect by now, but somehow we never do, and that's surprise us by going an entirely different direction than we expected, even though we're expecting the unexpected from Tarantino. His film seems to be about one subject according to the setting and the characters therein, and yet proves to be about something else entirely. In this case, one would expect his picture to be a war movie, complete with war movie tropes and references galore, of which there are many. But that's not what Inglourious Basterds is "about". Instead, stepping out of his comfort zone in terms of setting and by eliminating pop-culture references, or at least modern ones, from his bag of tricks, once again Tarantino makes a movie about movies.
Take Shosanna's cinema, where Tarantino takes his time showing us the ins and outs of film projection, and cuts to Alfred Hitchcock's Sabotage to indicate the flammability of nitrate celluloid. His references may not be direct. In fact, he's working the way most directors who pay homage do, by hinting through subtle and not-so-subtle visual cues, character setups, and location. The Dirty Dozen comes to mind when we first see Raine walking his line of Jewish-American soldiers, instructing them on details of their bloody scheme. "It's the closest thing we have to a movie," Raine remarks about Donowitz's method of killing Nazis, in a way referencing critic Pauline Kael's comments that movies are rarely about more than "Kiss Kiss, Bang Bang." Those crucial scenes inside the French movie house, a place where the film's shocking, controversial, and inspired finale takes place, symbolize the escapist qualities of both the moment itself and the setting of a movie theater—a place where people go to find escape.
In the end, there's something liberating about Tarantino's much-discussed climax, largely because our moviegoer notion of WWII comes defined by Real American Heroes and supremely evil Nazi villains. Good and bad remain distinct like a John Wayne wartime yarn; so how unfortunate that the worst bad guy of them all slipped through our fingers—what a terrible ending for a movie that would be. Tarantino rectifies that error, leaving audiences with a finish of unparalleled catharsis. Where another filmmaker would be chastised for taking such liberties, Tarantino gets a pass because audiences expect the unexpected from him. His film understands that every war movie rewrites the past and ostensibly throws the history book out the window for the sake of entertainment value, and he should be applauded for acknowledging that this is how all movies operate. He simply takes that tradition to the next arena, making Inglourious Basterds a celebration of the escape movies provide.