Director

Cast

Rated

R

Runtime

135 min.

Release Date

11/21/2007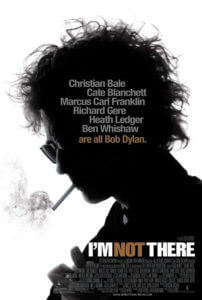 Watching Todd Haynes' I'm Not There, I don't know that I learned anything about Bob Dylan. Then again, I don't think I was supposed to learn anything. It's a movie best suited for those who've read books and watched documentary films on the musician, for those who know his history and lyrics well. Events in his music, public, and personal lives are noted on, but not drawn out, cleverly forcing us to amalgamate what we see into a whole person. Commentary exists by way of metaphor, sometimes inexplicable and abstract, sometimes historical, sometimes downright conceptual, as is this entire movie.
Haynes' film draws out the many personalities of Dylan, showing how they contradict each other to make a complex figure of American culture. Each persona is represented by an individual actor, taking on non-Dylan names, and each encased in a bizarre set of half-truthful, half-metaphoric remarks: Marcus Carl Franklin plays Woody Guthrie, a pre-teen African American boy hopping trains in the 1950s and playing folk music of a bygone era. The real Woody Guthrie was a white folk singer who rebelled against the hard times of the Dust Bowl, linking Dylan to a sort of drifting rebel who carried a guitar on which the words "This Machine Kills Fascists" were stenciled. Much of the humor in these scenes revolves around Woody's long discussions of his years on the road, with everyone around him ignoring that he's barely breached the age of ten.
Christian Bale is Jack Robbins, the reluctant celebrity-turned-religious spokesman. In the 1970s, Dylan became ordained in the Vineyard School of Discipleship, and subsequently released two Christian-themed albums. Prior to this, he reacted against claims of his music as prophecy, and would say that Jesus Christ is the only prophet. Dylan's friends, such as Joan Baez (Julianne Moore, working under the character name Alice), eventually distanced themselves from him because they felt betrayed by their prophet's actions. Robbie Clark (Heath Ledger) is the selfish celebrity managing a family with wife Claire (Charlotte Gainsbourg), a clear ode to Sara Lownds, with whom Dylan had four children. Reduced to displays of chauvinism mixed with tender love for an increasingly distant wife and two children, Dylan's own personal life crumbles with his stature. These scenes are the film's most humanizing, with Ledger giving another fine performance as someone who's "changed."
Ben Whishaw's Authur gives an interview throughout the picture, like a pseudo-narrator pronouncing his own litigiousness onto every idea or moment in his life. I admit, Arthur's scenes and those with Dylan as Billy the Kid (played by a ragged Richard Gere) baffled me as to their purpose. Perhaps they punctuate Dylan's walking contradiction of lone rebel, destined to be solitary, yet always drawing attention. Billy hides from his emblematic Pat Garret, who represents an epitome of a number of anti-Dylan media figureheads all played by actor Bruce Greenwood. This constant threat represented by Greenwood's characters plays out not unlike Sam Peckinpaw's maligned Western Pat Garrett & Billy the Kid—in which Dylan co-starred and wrote the music for—wherein two men of equaled intellectual capacity are mortal enemies.
The standout performance is given by Cate Blanchett, playing Jude Quinn, the Dylan who instigates a period of electric rock & roll, as opposed to acoustic folk. His lyrics are more random and his music rough in this period, where he spends his time in England, gallivanting with The Beatles and butting heads with a local critic (again, Bruce Greenwood). Blanchett describes a drug-abusing musician, but also gives the most dead-on representation of Dylan in I'm Not There. I wouldn't be surprised if she receives yet another Oscar nomination.
I'd recommend seeing I'm Not There only after reading Bob Dylan: The Essential Interviews or seeing Martin Scorsese's documentary No Direction Home: Bob Dylan. In the former, you'll be able to hear it from the source and see for yourself how scattered a personality Dylan could have, and thus understand why the only way for Haynes to make a Dylan biography was with various actors representing assorted personalities. In the latter, Scorsese's depiction is more focused and linear for those viewers opposed to Haynes' abstract thinking.
Those of you familiar with Haynes' work will remember Far From Heaven, a rethinking of Douglas Sirk's brilliant melodrama All That Heaven Allows, that ponders sexual implications both present and notably absent from Sirk's film. And who can forget Superstar: The Karen Carpenter Story, Haynes' biography of The Carpenters' own anorexic in which all characters are depicted by Barbie dolls—a blatant message to our society's obsession with looks and the repercussions thereof.
And as I think about it, Superstar: The Karen Carpenter Story and I'm Not There have much in common. Both fragment their subjects, depicting them as solitary pieces of a greater whole. Superstar doesn't make light of its topic, despite being thoroughly ironic in concept. I'm Not There employs its sometimes vague method so we understand that Bob Dylan is not simply Bob Dylan. He's also Robert Zimmerman and everything in-between.