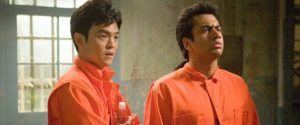 Harold & Kumar Escape from Guantanamo Bay
2.5 Stars
Director

Cast

Rated

R

Runtime

102 min.

Release Date

04/25/2008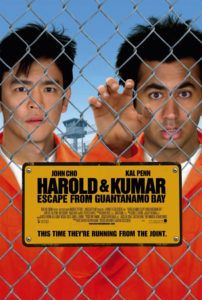 In their previous adventure, Harold & Kumar Go to White Castle, the Korean-American Harold (John Cho) and his Indian-American best friend Kumar (Kal Penn) go hunting for Sliders. In my review for that film I asked, "What is appealing about opting yourself into diarrhea?" Turns out nothing, as we learn early-on in the sequel, which begins literally moments after the first ended, starting with Kumar unloading in a toilet. "What do you expect," Kumar asks. "I just ate thirty hamburgers."
That morsel of truth just about sums up Harold & Kumar Escape from Guantanamo Bay, a movie that relies perhaps too much on politics and reality, when what made the first one so lovable was its absolute dismissal of all coherent thought (besides a primal drive to satisfy their stoner cravings for fast food). Written and directed by Jon Hurwitz and Hayden Schlossberg, writers of the first movie, this sequel is embedded with logic and objectives, as if Cheech and Chong suddenly realized they cared…
Still on their way to follow Harold's neighbor and recently confirmed love Maria (Paula Garcés) to Amsterdam, our heroes come across Kumar's true-love ex-girlfriend Vanessa (Danneel Harris) in the airport, only to discover she's being married to total straight-arrow "douche" Colton (Eric Winter). They come into play later. Meanwhile, fighting racial profiling with airport security, our heroes are arrested and labeled terrorists.
Agent Fox (Rob Corddry), who hunts for un-American activities seemingly in minorities alone, doesn't see much point in subjecting Harold and Kumar interrogation. He's already convinced their friendship represents a joining of North Korea and Al-Qaeda, so sends them off to Guantanamo Bay without so much as an interrogation or background check. One thing leads to another and they manage to escape; they head out on the road to find Vanessa's "douche" fiancé to take advantage of his political ties to get them out of trouble, which might be a problem since Kumar is still in love.
This may be the only time I've argued against the concept of a sequel with more plot than its predecessor… But the central pleasure inherent in the first nonsensical trip was the absurdity of their eventual goal, and the ultimate satirical embrace of such meaninglessness. Here, we're essentially watching episodic segments of The Fugitive, each taking our heroes one step closer to becoming innocent. Pardon me if that's a little too much direction in a stoner comedy for my tastes. In fact, they're getting high a lot less in this adventure, almost leaving marijuana alone until its proven they're not terrorists. Go figure.
With gratuitous displays of topless women to gawk over, you begin to wonder why this series remains so devoutly against racism while embracing race humor, yet doesn't seem to mind objectifying women as simply walking billboards for breasts (or, as in one scene, a multitude of exposed vaginas). Few movies have Korean, Indian, Latino, and Jewish-Americans as their heroes and a standard white guy as their villain. How can they get the race issue so hilariously correct and the sex issue so shamefully wrong? Sure, the producers throw in a penis to attempt a level playing field, but the nudity ratio drastically tips toward female. When so much of the movie contains clever-but-stupid acknowledgements about the hypocrisies of America's racist society, you'd think Hurwitz and Schlossberg would take it easy on the cheap and blatant boob shots, or at least admit their own double standard toward women.
Lacking the surreal edge the first film boasted with random humor, Harold & Kumar Escape from Guantanamo Bay will make you question if the writers have since cleaned up. Granted, Neil Patrick Harris shows up on mushrooms for a Starship Troopers reference and a kaleidoscopic unicorn delusion, our heroes meet a cyclops, and at least one joint is shared with George W. Bush (played by James Adomian), but the few bizarre laughs were less daring and more infrequent than its predecessor. This sequel's routine-ness will probably please fratboy fans only, further distancing the rest of us from this genre forevermore.