Director

Cast

Rated

R

Runtime

117 min.

Release Date

02/09/2007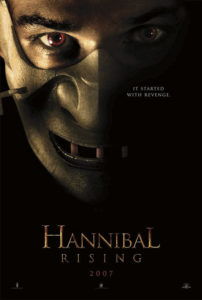 Hannibal Rising attempts to answer questions about the iconic and villainesque Hannibal Lecter, when really, no questions required illumination. Among the mysteries revealed, the picture gives us the origins of Lecter's connection to cannibalism, to his knowledge of the human body (and how to carve it up), and to his impeccable table manners (yet it forgets to explain Hannibal's attraction to the human mind, which is a pretty big part of the character). The film succeeded only in killing the appealing mystery and inscrutability of one of the greatest screen characters of all time. By allowing us "in", though not completely, we see vulnerabilities in Lecter which soften the impenetrable and manipulative nature that was so alluring about the Lecter of Lambs, Hannibal, and Red Dragon.
Lured by Lecter, audiences have come to love him as an intriguing rogue, as he is never quite the antagonist in his stories—Buffalo Bill (Lambs), Mason Verger (Hannibal), and the Red Dragon each claim that title in their respective films. Thanks to a somewhat cultish cachet of supportive fans, Hannibal has become a hero—especially after Hannibal's release. Audiences saw how Clarisse Starling cared enough, understood enough about Lecter that she, at times, empathized with him. In the end of Hannibal the film, Starling is forced to let Lecter go; in the novel, Starling and Lecter run away like lovers to South America, blurring the line even more between hero and "villain".
Clearly, Thomas Harris, the writer of the Hannibal Lecter books, understood (at least within the narratives of Lambs and Hannibal) Lecter's sympathetic potential regardless of all the vicious behavior. Lecter follows a logical path, albeit a murderous logic; and so audiences love Lecter, despite his brain eating and setting up FBI agents for the big D, because there's a method to his madness.
Mystery allures, and up until now, Lecter was mysterious. We know he kills people; we know he eats them; we know his victims are often killed to "better society." We remain captivated with Lecter because we cannot completely understand him. Even his most famous line refers to his esoteric temperament: "A census taker once tried to test me. I ate his liver with some fava beans and a nice chianti." Lecter's twisted logic keeps us at a distance so we have no choice but to be enthralled, in hopes that we might learn more. The first three films, all starring the exceptional Sir Anthony Hopkins, never gave us the whole picture, which is why audiences want more of Lecter.
Hannibal Rising stars French actor Gaspard Ulliel (the meek-looking boy, left, from A Very Long Engagement) as Hannibal Lecter. Originating in Lithuania in 1944, Hannibal and his little sister Mischa are orphaned by enemy fire on a war-torn landscape; what's more, they're taken prisoner by a group of starving Nazis who eat little Mischa. Hannibal is traumatized and left alone, and as he grows, he hungers for revenge against the gang of Nazis that ate his little sister. In searching them out, he slowly learns how vindicating and pleasurable revenge can be.
Now that we know Hannibal is Lithuanian, it's blatantly obvious Ulliel is struggling with simultaneously creating a Lithuanian accent while also attempting to allude to Anthony Hopkins's British accent, and then on top of all of that, hide his own French accent. The pronunciation goes in and out and seems labored over—it's nothing like Hopkins's snake-like voice, slithering into the minds of those trying to probe him. Ulliel looks more like a nerdy teenager playing dress-up, trying desperately to pull off a bad Lecter impersonation, rather than a sadistic murderer. His face sustains childishness throughout the picture; we never stop seeing the little boy whose sister was eaten—thus, it's impossible to imagine Ulliel's Lecter growing up into Hopkins's.
The blood and gore isn't horrific; we aren't frightened when Ulliel's Lecter slaughters people; his presence fails to send shivers up the spine—all unlike Hopkins, whose mere appearance could terrify. When Ulliel kills, it's more like a misunderstood teen squishing a frog: pitiful. To think of this Lecter as an elder diminishes his sadistic calm (particularly at the end, when a secret is revealed, making Hannibal into a hypocritical monster). Because of this film, Lecter is somehow pathetic; and maybe it's my resistance to that idea, my desire to sustain the mysterious-yet-dangerous charm of Lecter, which made me despise Hannibal Rising.
Beyond the character-spoiling plot devices, the movie also serves the audience a sickening dose of "Hey, remember when this happened in enter previous Hannibal Lecter movie title here" moments. Thomas Harris, having written the script and the novel for Hannibal Rising at the same time, put in every effort to ham-it-up to make a buck. The famous bite-guard from Lambs is pointlessly alluded to when the young Hannibal puts on the face protector from samurai armor. Music begins to boom—dun, dun, DUNNNN!—and the audience says, "Huh… ironic." It's such a pointless scene in the film. And even though it has no bearing on the film's plot, the producers decided to use the image for the movie poster, again, to make us remember the greatness of Lambs.
Though it wants independence from the previous films, Hannibal Rising relies wholly on what the character will become, not what he becomes in this film. It doesn't have the talent, the script, or the director involved to tell a story worthy of independence from the other films, nor does it have the characteristics to succeed as a prequel. The original Lecter trilogy didn't need a prequel; and if it did, it certainly didn't need this one.