Director

Cast

Nikki Blonsky

,

John Travolta

,

Michelle Pfeiffer

,

Christopher Walken

,

Amanda Bynes

,

James Marsden

,

Queen Latifah

,

Brittany Snow

,

Zac Efron

,

Elijah Kelley

,

Allison Janney

Rated

PG

Runtime

107 min.

Release Date

07/20/2007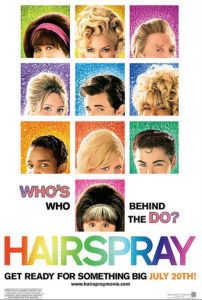 The movie musical is something of an oddity, wrapped up in colorful dance numbers and glorious set designs complete with frilly bow and luminescent wrapping. Rarely are there minimalist musicals, since the genre is pointedly expressive; there's nothing subdued about singing to communicate one's emotions. Musicals don't work in the natural world; they exist on a simplistic plane where something as basic as melody enlivens or destroys, confirms love, sexually liberates, or suggests ethnic diversity. They've been making a comeback in the last decade, and almost every musical released in the last ten years has been a box office success. With popular films like Moulin Rouge, Chicago, and Dreamgirls, Hollywood certainly hasn't reached the classy output of pre-1950s era musicals, but it has at the very minimum reestablished interest in the genre.
I suppose that's why Hollywood's Chubby Chasers have sought out the Broadway musical Hairspray for feature film adaptation, sinking their money grubbing hands on as much chunk as they can handle. Whoever thought a John Waters film would become a Broadway hit (Pink Flamingos, anyone?), and who would ever expect that musical to become another feature film? The original 1988 movie introduced a young Ricki Lake to the world as Tracy Turnblad, the 'big and beautiful' teenager fanatical for a 1960s after-school dance show. Here, first-time actress Nikki Blonski takes over the Turnblad role, appropriately sparking it up with her stubby and vibrant performance. Tracy's only joy is this "Corny Collins Show", Baltimore's equivalent to a teenage Mickey Mouse Club—except this club dishes out double entendres with hearty winks at the camera. Every month the show features "Negro Day", a special day where "race music" is showcased; this is Tracy's favorite event.
Managed by Velma Von Tussle (fantastically played like an evil cartoon by Michelle Pfeiffer), the show features "the best" kids—meaning only whites. Von Tussle is like some suburban Arian leader, weeding out teens until only those with pristine physiques and white skin remain. Tracy is an obvious threat to Von Tussle, both hefty and all for integration. Eventually, her unconventional obsession finds her dancing with sexualized, rhythm-laden black folk, all in detention, learning their moves to the music from their part of town. Tracy's beloved show eventually tests for new members and her black-inspired moves get her in.
In the original film, transvestite Divine furthers her/his penchant for grotesquerie by playing Tracy's mother in a hilarious performance. Devine was naturally big, making her movements and eventual dancing sincere, if not awkward and campily enjoyable. Continuing the idea that Tracy's mother's sex should be ambiguous, John Travolta takes over the role, garnering a fat suit to emulate Divine's natural robustness. In the suit, Travolta looks as though the actor emptied out a 300-pound woman and is living inside her remains. If that sounds scary, it's meant to be. Travolta may be able to sing and dance, but he can't perform one, crucial skill required by this part: don't give the audience the creeps. When thinking about casting, I couldn't help but imagine someone of appropriate girth taking the role—perhaps John Goodman, whose experience in cross-dressing peaked when he appeared as Linda Tripp on "Saturday Night Live", and whose experience on the Blues Brothers nouveau has lent him a singing voice.
Amanda Bynes also gives a curious performance. "Curious" because I'm not sure if her rigid, vacant expression was intentional or if it was merely acting. Her character, Tracy's best friend Penny Pingleton, suggestively licks a sucker with her schoolgirl pigtails bobbing. Her obvious sexuality makes for a number of funny moments, but from her there's never more than a confused look. And when everyone around her character is dancing in the film's grand dance-off finale, Bynes stands rhythmless (though that may have been due to her inordinately tight dress). If you can manage to close your eyes while monstrous Travolta-as-Edna Turnblad continuously discusses eating pork (but that's the big question… IF!), and if you can ignore Bynes' ode to robots, there's actually a lot to like in this film.
Happily, among all the silliness, there's a pleasant equality message under all the lively songs, which is refreshing, given the recent racial intolerance found in I Now Pronounce You Chuck and Larry. Dealing with the close-mindedness of early 1960s suburban culture, Hairspray finally suggests that being voluptuous and African-American is the coolest thing you can be. If that's true, Queen Latifa is the coolest woman around. Her know-all performance as Motormouth Maybelle has her rolling eyes at naïve white kids and giving wise advice. Her songs "Big, Blonde and Beautiful" and "I Know Where I've Been" are the most enjoyable, well sung numbers in the soundtrack.
Visually, you'll be enthralled, as everywhere you look there's activity. Singing billboards, cigarette smoking pregnant mothers drinking martinis, and oh what colors! Yet, I can't help but think how much better this film would have been in Three-Strip Technicolor like so many Golden Age musicals (which I realize has been an impossibility since 1955). Ethnic stereotypes become sardonic, as do the seemingly never-ending fat jokes. Though, somehow this film removes a good deal of Waters' satirical edge and camp joy for the purposes of this traditionalized musical production. Camp and bad taste are Waters' best friends (understood after seeing his cameo in this film as Baltimore's resident flasher). Unfortunately, this doesn't feel like a John Waters film that after two evolutions has become a Hollywood musical; it feels like Grease after a few burgers. Maybe it's just my appreciation for Waters' kind of smut and my disdain for everything's-going-to-work-out type musicals, but Hairspray, while momentarily enjoyable, has ceased to be anything original in its latest form.