Director

Cast

Rated

PG-13

Runtime

85 min.

Release Date

12/07/2007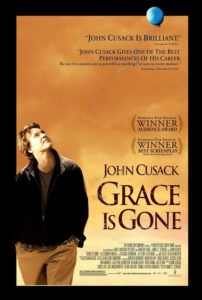 Grace is Gone isn't much without John Cusack, an ever-genial actor capable of communicating so much with just his face—we're instantly taken with his onscreen presence. He's the lovable big brother from Stand By Me, the sympathetic assassin in Gross Pointe Blank, the hopeless puppeteer in Being John Malkovich, and the lovelorn teen in Say Anything. And inside his downtrodden eyes lies the center of writer-director James C. Strouse's film. Simple to a fault, the story follows lowly Minnesotan suburbanite Stanley Philipps (Cusack) as he's told his wife, serving in Iraq, has been killed in the line of duty. Unable to break the devastating news to his daughters, Heidi (Shélan O'Keefe), twelve, and Dawn (Gracie Bednarczyk), eight, he opts to drive them to Florida's Enchanted Gardens instead. As his desperate escape from reality weighs on Stanley, he contemplates his wife's death, struggling to overcome his fear and finally develop a closeness to his young girls.
The plot is never more complicated than an emotional road trip with the occasional hotel stop or shopping adventure. But take a weary step backward and you'll realize you're being cleverly preached to through an anti-war metaphor, which is almost lost given the distance placed between the characters and audience. The trip (war) just keeps going on and on, seemingly without purpose, to a penultimate conclusion that doesn't solve a thing. The constancy of the narrative's wandering malaise wears on the viewer, as too much of Strouse's drama involves pensive shots of Stanley or his burgeoning adult daughter Heidi mulling over their lives.
And yet, these ponderous moments are the film's greatest attribute. Not only because Cusack speaks with his face the way Al Pacino blurts with his mouth, but because young actress Shélan O'Keefe holds her own along with him. She has a shy way of handling the most complex scenes with a series of modestly traced outpourings. The subtle performances are further muted by a much-acclaimed musical score written and performed by Clint Eastwood (yes, that Clint Eastwood). His score was lauded, I think, because Clint Eastwood composed it. Had another musician written and performed his temperate acoustic harmonies, we wouldn't be hearing about the wonderful music.
Maybe you heard about Grace is Gone last year around December. Plenty of buzz hummed around the picture following its run on the festival circuit, including praise abound for John Cusack's performance and Eastwood's delicate score (Eastwood's music and his song "Grace is Gone" sung by Carole Bayer Sager even earned Golden Globe nominations). But the overall lukewarm reception didn't call for the film to be buried the way it was. Per usual, The Weinsteins botched the distribution, forgoing even a bear-minimum limited release. The Press got their screenings, as did New York and L.A., but the rest of us had to wait for the DVD. And that's the perfect place to view the movie.
I found myself admittedly underwhelmed after the end credits began to roll. I was happy to find Strouse's direction doesn't reek of indie movie pretentiousness, nor does the film distance itself from the mainstream. The result is a simple idea delivered in a short period (the runtime is just under 90-minutes), and its effect is worth you casually seeking out for a good cry. But I cannot attest to its lasting effectiveness, because it didn't inspire any prolonged thought about the conflict in the Middle East. And I wasn't moved to that great emotional involvement stirred up by so many of 2007's other Iraqi Conflict-themed films (In the Valley of Elah, The Kingdom, Redacted).
Watch Grace is Gone for Cusack and O'Keefe's performances, which are layered and interesting viewing even during solemn scenes where virtually nothing is "happening". Watch for the almost poetic minimalism, contained inside and expressed through Cusack's eyes, without whom this movie would not work. Enjoy the subtleties of the acting and you'll appreciate modest pleasure available in a film that perhaps goes too far in suggesting less is more.