Director

Cast

Rated

R

Runtime

113 min.

Release Date

07/20/2007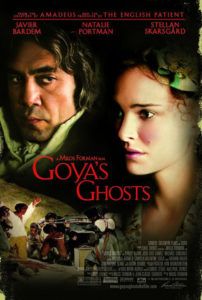 A painter employs the freedom to represent the world by whatever interpretation he or she chooses—be it realism, surrealism, expressionism, minimalism, cubism, or any other of the known isms associated with high art. Working in the years before and after the French Revolution and the fall of The Inquisition, Spanish painter Francisco Goya was revered for his graphic portrayals of history. But painters do not simply copy history. They frame and stylize their subject to fit their own methodology. Angles and colors and shading are manipulated to convey history through a sieve, allowing only the intended message to pass through. This is why the terms "realism" and "naturalism" are often avoided within art historical analyses, as they suggest something impossible to art: objectivity.
Film, too, is a subjective art form, insomuch that we can never rely on a wholly impartial viewpoint from a motion picture, neither in fiction nor documentary. Directors choose camera angles, color templates, and adjust the cinematic apparatus to tell their story in a particular way. Historical epics are often maligned because they fail to be, well, historical, often as a direct result of filmic narrative manipulation. But just because a film seeks to entertain, that doesn't mean it should loose merit. Goya's Ghosts is the perfect example of a film whose inaccurate history can be ignored for the favorable story.
Director Milos Forman uses Goya, here played by the genial Stellan Skarsgård, as an observer to one of Spain's most uncertain and chaotic historical epochs. In the film's first scenes, we meet Brother Lorenzo (Javier Bardem, working his seedy-yet-charismatic magic), who defends prints by Goya that seem to mock the Roman Catholic church in Spain, spearheaded by doctrinaire Father Gregorio (Michael Lonsdale). To counteract Goya's persistent depiction of the negative results of the church establishment, Lorenzo opts to reinstate "The Question", a sadistic process through which a suspect of heresy or crime would be forced to confess after grueling torture.
The story revolves around how one of Goya's live models, Inés (Natalie Portman), the daughter of a wealthy merchant, becomes victimized by the obscene dogmatism of The Question when she is mistakenly suspected for practicing Judaism. When The Inquisition apprehends and holds her for a period of weeks, her father asks Goya to interject. Having painted his portrait, Goya approaches Brother Lorenzo, asking him to appeal to Father Gregorio; even though Goya is court painter to Charles IV (the King is played by Randy Quaid, in a humorous-yet-welcomed bit of sardonic casting), his name has little pull when Lorenzo petitions for Inés' freedom. But then again, Inés is exactly where Lorenzo wants her to be, and indeed, takes advantage of her vulnerable position.
What follows is an engaging if completely fabricated account of Inés' tragic fate, set against the backdrop of Spain's great political and religious changes over the coming decades. Ignore that Goya's works are sometimes shown in mislaid chronological order, appearing years before they were actually painted or etched. Disregard that Goya's character remains a standby, merely surveying the film's events with as much involvement as we have in this film's production. Omit that any of it is based on (sort of) actual events. Instead, watch how well the tale involves us, and enjoy the thoughtful performances by the remarkable cast.
Throughout the film, Bardem offers quiet malice, a nastiness that doesn't reach villainous extremes, but rather dwells in the sickly immoral. Lorenzo shifts from faith in The Inquisition, to a prosecutor for Napoleon after his banishment, and Bardem maintains an eerie calm during this shift—as if there's something abject under the surface with a pulsating desire to hide under whatever façade Lorenzo chooses. It's a performance that proves the Best Supporting Actor Oscar-winner from No Country for Old Men has more range than we've seen in his English-language roles. Meanwhile, Portman and Skarsgård give equally impressive performances. Portman offers three distinct types within two characters (Inés before and after 15 years of imprisonment, and Inés' prostitute daughter Alicia), while Skarsgård makes Goya into a pleasant offshoot we immediately respect, his somewhat inconsequential existence in the story notwithstanding.
Producer Saul Zaentz has an affinity for films with titles that infer one character and yet focus on another. One Flew Over the Cuckoo's Nest, Zaentz and Forman's first collaboration, centers on Jack Nicholson, who in fact did not fly over the cuckoo's nest; that honor went to near-silent background figure Will Sampson. The beautiful film Amadeus was less about Mozart than his embittered competition Antonio Salieri (F. Murray Abraham). And you could argue that The English Patient delves deeper into Juliette Binoche's relationships than said patient's. But this curious formula has proven successful, as each of these titles has earned Zaentz Best Picture Oscars. With only a handful of films produced under his name, in 1997 (the same year The English Patient took home its statue) Oscar also saw fit to don him with the Irving B. Thalberg Award for lifetime achievement.
Chances are you haven't heard of this film. So what happened to Goya's Ghosts? Why was the virtually nonexistent theatrical run shamefully abbreviated? In all honesty, I do not know. Scathing reviews from European critics (who were the first to see this picture, filmed in Spain) may have softened the desire for a wide release in the states. Their criticisms pointed fingers at the film's indisputable historical inaccuracies, which if lauded-over will spoil an otherwise enjoyable picture. Regardless, given the Zaentz-Forman history for award-winning quality cinema, you would think distributors would put every resource into its promotion.
If we bear in mind that skewed interpretations of history (we call it drama, or legend) are what historical cinema is all about, then we can look beyond this film's faults and enjoy the narrative. With recent movies like The Other Boleyn Girl, looking past such factual inconsistencies is difficult when the story fails to stir its audience. Forman constructs an involving traditional melodrama, complete with struggles of class hierarchy (however contrived they may be), which will be all the more enjoyable for viewers unfamiliar with Francisco Goya or Spanish history, thus not susceptible to balking at their occasionally imprecise depiction. Even with these minor disapprovals, this is a film constructed with handsome and horrifying imagery, evoking Forman's customary (and painterly) ability to find beauty in the wretched.