Director

Cast

Rated

Unrated

Runtime

94 min.

Release Date

05/06/1949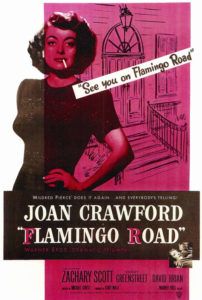 Made only a few years before Douglas Sirk's sumptuous, colorful melodramas, Flamingo Road comes by way of director Michael Curtiz, the man normally associated with essentials like Casablanca, The Adventures of Robin Hood, and Angels with Dirty Faces. Imbibing the picture with his usual contrasts of black and white, nearing an expressionist's use of shadow, Curtiz's bravado camerawork and flawless production design exemplify Golden Age Hollywood's proclivity towards flawlessly produced cinema.
The story begins with Lane Bellamy, played by screen legend Joan Crawford, as a circus burlesque dancer who's seen it all, but has done little with her life. When her roadshow employer is run out of town by local Sherriff Titus Semple (the seedy Sydney Greenstreet), Bellamy elects to stay behind and make a real life. Kindhearted but weak-willed Deputy Sherriff Fielding Carlisle (Zachary Scott) arrives, sent by Semple, to give the circus-folk notice, but finds only Bellamy alone with nothing. Being a kind sort, the Deputy secures Bellamy a job and place to stay. The two hit it off. Except, she's soon told the score by Semple, that she'll forever be a lowly River Street citizen, if that, while the town's well-to-dos live high up on Flamingo Road. Indeed, River Street isn't low enough for Bellamy, according to Semple, who plots to deject her from town while also scheming to secure his place in the governor's chair.
Predating Samuel Fuller's The Naked Kiss, a racy B-movie melodrama about prostitution from the 1960s, both films follow a similar path: a wrong-side-of-the-tracks woman takes on small town corruption and discrimination. But where Fuller's antagonist was societal ignorance, Greenstreet's Sherriff Semple embodies sliminess to a fault, insomuch that we can't wait until he receives his just deserts. Constantly sweaty, the large Sherriff is called "blimp" to his face, but remains almost proud about his weight and luxurious laziness, as though it was a sign of Victorian stature. Greenstreet's rusty voice is occasionally marked with a pathetic hiccup-laugh, which his character uses, he admits, as a humanizing device. But no one in his town thinks him anything but a monster.
Crawford, too, gives a wonderful performance, recalling her best leading-lady work from years previous. Her fiery eyes, unfurled lips, and wildly high eyebrows were perfectly suited for melodramatic film, a genre wherein she repeatedly found herself. Her animated style found its roots in her silent film career, which culminated nearly thirty films and a few starring roles. She survived the transition from silence to sound, unlike many. And after years of feeling underappreciated, Crawford bought out her own contract from MGM in 1943, leaving to sign with Warner Bros. studios. She was desperate for recognition by way of an Oscar, but found that with her age creeping up on her, and an exceedingly competitive market (thanks to The Fifth Warner Brother, Bette Davis), finding a suitably award-worthy prestige picture was a challenge.
All at once, director Michael Curtiz came along with the script for Mildred Pierce. By 1945, Crawford's time with the Warners was all but wasted—she went two years without a picture released, whereas Bette Davis, Crawford's ever-present rival, was making several per year. Though asked (with much impudence in her eyes) by Curtiz to audition for the title role in Mildred Pierce, Crawford eventually took home an Oscar for her performance. Afterward, she demanded to be called "the artist" and considered herself a creative commodity, the equivalent of a producer, only without the screen credit, which meant trouble for studio bosses.
Once a screen beauty in 1930s pictures like Grand Hotel and The Women, Crawford was becoming tougher, more savage, and visibly older with every role; indeed, her noticeable physical change between Mildred Pierce and Flamingo Road, made just four years apart, is indisputable. But while Pierce's youthful resilience reflects the actress' beauty, Lane Bellamy fittingly looks as though the world has beaten her down. For actresses capable of, or thrust into such superficial metamorphoses via nature, the studio heads were a constant threat. Women in Hollywood still battle to justify themselves in the face of the media's idealism that youth equals beauty. Crawford's va-va-voom, her leading lady highpoint, had passed; her remaining career was spent reselling the bitchy version of herself over and over, while studios sought younger, fresher, and more appreciative talent.
For true melodrama, expressive emotion isn't enough; rather, there must be an all encompassing conflict of classes, usually sympathetic toward a low-class underdog usurping an authoritarian bourgeois or aristocrat. Such prevalent themes led to the genre's great success with Depression-era audiences, playing on feelings that lingered in subsequent years. Melodrama traditions started hundreds of years back with the very first operas and plays, and in the last century have skewed into the typical post-modern overemphasis found in our soap-operas. But melodrama remains affecting because when done correctly; it forces us to question and even challenge class distinction with grand theatrical results. Flamingo Road does that effortlessly.
Composed melodrama as good as this would only take itself seriously for so long, ending its reign in Hollywood after the 1960s when televised soap-operas dominated the genre, making filmic examples seem redundant. Granted, sprinklings have appeared here and there over the years, but nothing like the genre's renaissance in 1940s-1950s cinema. As audience's braced themselves for the Cultural Revolution in the decade(s) following Flamingo Road's release, Douglas Sirk would bring melodrama to its peak with films like All That Heaven Allows and Written on the Wind, adding fruitful color to these already popping stories, never to be matched.
Recently released on DVD as part of Warner Brothers' Joan Crawford Collection, Vol. 2 (along with A Woman's Face, Sadie McKee, Strange Cargo, and Torch Song), this picture was a welcomed discovery—not that I expected less from the exemplary talent involved. Curtiz, pulling the strings on a high-drama production, recalls his best work from previous years. Screenwriter Edmund H. North (Patton, The Day the Earth Stood Still) adapted the story from Robert Wilder's novel, infusing his text with brilliantly scathing dialogue. But it's Crawford and Greenstreet who deserve the most praise; they singularly personify their opposing classes in marked performances, pulling us through the mud in their grim social battle, making the film's utterly satisfying resolution cheer-worthy.