Director

Cast

Rated

PG-13

Runtime

98 min.

Release Date

01/11/2008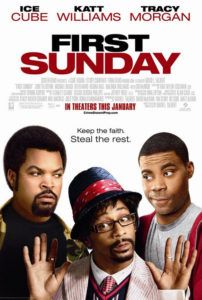 Writer-director-producer David E. Talbert desperately attempts to raise First Sunday to Tyler Perry levels of comedy with his first feature film; unfortunately, he's not half the comedian or social commentator. Sloppy plot devices and graceless dialogue flood this faith-heavy comedy, whose underlying message transparently attempts to inspire, while also showing us what happens when we don't fill those church seats.
Wayward hoodlums Durell (Ice Cube) and LeeJohn (Tracy Morgan) have money problems. Durell fits the cliché of wasted talent, sort of like Will Hunting, except his talent is fixing air conditioners. Jobless and desperate to find money to support his son (C.J. Sanders), the only thing he really loves, he turns to LeeJohn. Resorting to business with Jamaican gangsters soliciting custom wheelchairs, the childhood friends get caught by police and sentenced to 5,000-hours worth of community service by Judge Galloway (Keith David). They certainly won't be able to get jobs to earn their troubles away, not with their long-standing criminal records.
And so, with gun-totting Jamaicans after their lost investment, and Durell's son possibly moving away unless the ex-wife (Regina Hall) gets seventeen-thousand dollars to sustain her lease, the two take the road less-traveled. LeeJohn suggests robbing the local church that has raised more than $200,000 for an overhaul. Durell reluctantly goes along with the plan, thinking only of his son. They don't even bother casing the joint; once the decision is made, they're off.
Everything goes wrong when all of the church's staff and a few attendees are found having a budget meeting the night Durell and LeeJohn commit their robbery. Turns out one of the churchfolk has already emptied the safe of its contents. What follows is a drawn-out getting-to-know-you kidnapping story, where our protagonist-robbers slowly reveal their reasons and the victims all suffer from a communal form of Stockholm syndrome.
There is some good here, namely Ice Cube, whose film career peaked with Three Kings and Ghosts of Mars a few years back, but dropped back out since. Tracy Morgan is somewhat of an oddity with his bizarre expressions and emphatic delivery; fans of TV's 30 Rock will be disappointed by his limited performance. Talbert's greatest strength resides in his supporting cast choices: Chi McBride plays Pastor Mitchell, giving the character his immediate sense of authority and warmth; Michael Beach plays the crooked Deacon whose misappropriations are obvious from the earliest scenes; Malinda Williams is Tianna, the Pastor's daughter, who Durell has a cutesy eye on; and of course the charming Loretta Devine as Sister Doris manages the film's only genuinely sweet scene when she sings "Happy Birthday" to LeeJohn, who doesn't know the day of his own birth. Awww…
Comedy Central's roast of Flavor Flav was an awkward event, because some guy named Katt Williams hosted and no one seemed to know who he was. Now with an hour-long stand-up special on that network, as well as his own introduction to the world via direct-to-DVD feature, Katt Williams: American Hustle, one might suggest Williams made a deal with the devil. (Or at least the devil's brother, who will gladly take your soul, but doesn't deliver much in return.) Williams dons Brian Grazer's haircut, playing the church's choir director who incessantly talks but says nothing in his nasally, and irritating voice. Curiously, he receives second-billing over Tracy Morgan, though his screen time is considerably less and his name virtually nonexistent (unless you're a fan of Norbit, Epic Movie, or Friday After Next, which no one should be). With balcony seats, he heckles in snide and sassy commentary, turning every plot development into a struggle between paying attention and cursing Katt Willaims' name.
I might call First Sunday passable, except the third act is gloriously unbelievable. Talbert offers a happy ending perhaps too ignorant of real life, suggesting criminality can be forgiven by the church; for this movie, law is also a great forgiver. I, however, am not willing to forgive Talbert's prose for stooping to such feel-good lows to teach its thugs their spiritual lesson. While the commentary in the last half-hour remains very cushy and pleasant, it contrasts the rompish nature of the preceding hour, which is filled with stupid humor by way of Tracy Morgan's over-acting. It feels like the beginning of a bad comedy and the finale of a cheesy religious melodrama were super-glued together.