Director

Cast

Rated

R

Runtime

102 min.

Release Date

09/28/2007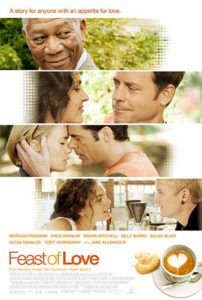 Whatever incarnation love may take, it's never what we expect or are prepared for. Rarely does it progress easily; and even if it should come with ease, chances are it will get tougher later on. There's always some rotten fruit in the bushel, always some spoiled buds on the primrose path. Love changes and grows along with people; keeping up with it is the hard part. I suppose that's what Feast of Love is about, moving right along with love, since it's like an independent force guiding us.
Morgan Freeman plays Harry Stevenson, a professor on leave while he and his wife Esther (Jane Alexander) gather themselves after losing their son a year ago. By day Harry drifts off onto park benches and takes long walks, stopping by at a local coffee house called "Jitters". And there he sits, talking to his friend, the owner, Bradley Thomas (Greg Kinnear), a man so innocent and with so much love to give that he's blinded. Harry gives Bradley advice on love, sipping his coffee and pretending to read a book. Occasionally, someone will interrupt him for his counsel, with which Harry will reflect on some wise metaphor or age-old witticism about the nature of love. He's a rather passive character until he returns home at night from doing nothing, to give his wife, who he clearly loves beyond measure, commentary on the day's events.
Harry sees things like Bradley's wife (Selma Blair) catching the eye of a fellow softball player; it later comes as no shocker when she leaves Bradley for the dreaded other woman. Harry doesn't even speak up when Bradley gets back on his feet, rebounding with Diana (Rahda Mitchell), a hard-case real estate agent whose affinity for adultery will surely not suit Harry's lovesick friend. Bradley is too naïve to see that Diana has a sideline lover, David (Billy Burke), who's just as cold and mean as she is. But let's not forget about Chloe and Oscar (Alexa Davalos and Toby Hemingway), the destined and destitute young lovers who need only each other to survive. They abandon Oscar's drunken father (Burt Ward), who doesn't mind stabbing Chloe's groceries with a knife to show his distain for their relationship. Abusive parents always seem to hate their children in the movies, but inexplicably want to keep them around.
There's a pivotal question put forth by the film's unlucky hopeless romantic, Bradley: Is love Nature's trick to get us to make babies, or is it the only true thing life offers? The correct answer is behind door number two, since lust and sex will happily fulfill the former option (although there is plenty of sex in this film too). And perhaps the film fails because it suggests that we're unaware of the answer. It takes an intellectual approach to romance, as if there was some secret answer deriving from a mysterious Greek philosophy on love, known only to scholars like Harry.
Freeman has played versions of Harry for years, educating younger folk on a wiser man's knowledge. Seven, The Shawshank Redemption, and even Batman Begins—in each he plays the more experienced soul who's seen it all. His roles are usually too tempered and stoic to mobilize on their own, and so they take a step back to a younger star. And while he's an incomparable supporting actor, imagine what he could do if he didn't remain on the margins. Greg Kinnear has the same problem. Once again he's playing the oh-so innocent and victimized male. Given the surprising development of his talent (movies like The Matador and Auto Focus are big steps up from Dear God) you'd think he'd stray from these roles. Nonetheless, like his costar Freeman, Kinnear excels in his now typecast screen persona. In the meantime, I look forward to when they break out of their respective stereotypes and try something more daring.
Director Robert Benton (Kramer vs. Kramer, Nobody's Fool) has an eye for family stories and mélanges of quaint, charming characters. Here, a small piece of Oregon becomes a haven for strangers that don't scoff when you approach them. It's an idyllic little world that's created, one scaled-down to an appropriate intimacy. The mosaic pieces come together in the end, if only for a brief moment. If some grandiose feast is the chosen metaphor by author Charles Baxter, a professor at the University of Minnesota (of which I am an alum), whose book is the basis for the screenplay, the third course (act) serves up a slab of meat sadly overcooked. We're asked to swallow death, a depressing and mood-killing note in an otherwise delightful movie. The death serves as another way for the film's characters to over-analyze love, drowning out finite experience for "the bigger picture" as it applies only to them. Their resolutions seem too profound, certainly out of scope for what could have been a nice little romance picture.