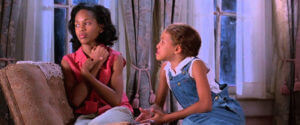 Reader's Choice
Reviews commissioned and selected by Patrons
Director

Cast

Jurnee Smollett

,

Samuel L. Jackson

,

Lynn Whitfield

,

Debbi Morgan

,

Roger Guenveur Smith

,

Vondie Curtis-Hall

,

Branford Marsalis

,

Lisa Nicole Carson

,

Meagan Good

,

Diahann Carroll

Rated

R

Runtime

109 min.

Release Date

11/07/1997
Eve's Bayou opens with a line that's as haunting as they come: "Memory is the selection of images, some elusive, others printed indelibly on the brain." This is the voice of Eve Batiste, who continues, "The summer I killed my father, I was 10 years old." With this layered introduction, the mysterious film, written and directed by Kasi Lemmons, immerses us in the past, filtered through the potentially unreliable recollections of its narrator. Steeped in Southern Gothic atmosphere, voodoo mysticism, family curses, and the imprint of American slavery, the story, set in the early 1960s, follows the Batistes, a well-to-do Creole family from Louisiana. It is a soulful, personal, and even supernatural drama whose closest comparison might be Ingmar Bergman's Fanny & Alexander (1982), a ghostly tale of youth and its perspective on the complicated lives of adults. But it also contains the spirituality and magical realism of Toni Morrison's writing, specifically her 1987 novel Beloved, offering equal measures of emotional depth and intellectual weight. Eve's Bayou also captures a section of the Black experience rarely depicted in the 1990s, that of an affluent, bourgeoisie family, and appropriately, with those opening words, establishes a coming-of-age tale about a child discovering the tangled social realities of those around her. 
The opening voiceover spoken by Eve explains her family's complicated history of African slavery, witchcraft, and the passing down of land. The Batistes descend from a slave woman named Eve who saved her master, General Jean-Paul Batiste, using her voodoo medicine. Eve was given not only her freedom but the title's land by Batiste, who then fathered her 16 children. This rich history, afflicted with a hint of magic and sexual taboos of the period, reverberates in the story. The Batistes remain affected by sexual transgressions of various kinds, while the family members experience violations of trust that raise questions about the bonds between them. As the story unfolds, their experiences have a complexity that, not unlike their complicated family lineage, resists an essentialist or morally clear explanation. The images of Eve's memories are both ephemeral and stark. "Each image is like a thread," her voiceover explains. "Each thread woven together to make a tapestry of intricate texture. And the tapestry tells a story. And the story is our past."
Eve's Bayou centers on the family, now headed by Dr. Louis Batiste (Samuel L. Jackson), a smalltown doctor well aware of his prominent position in the community. He is married to Roz (Lynn Whitfield), an elegant and sophisticated woman, and together they have three children: the fourteen-year-old Cisely (Meagan Good), who worships her father; the ten-year-old Eve (Jurnee Smollett), a rambunctious tomboy; and the nine-year-old Poe (Jake Smollet), who seems oblivious to the shifting dynamics between his parents and older sisters. The story is told from the perspective of Eve, whose Grand Mere (Ethel Ayler) always seems to inhabit the kitchen, while her cursed Aunt Mozelle (Debbi Morgan) has lost three husbands to violent deaths. Mozelle, who's familiar "with the inside of a mental hospital," gives psychic readings to those who have lost someone or need to find a missing family member. Eve might have the same gift—spied in her psychic dreams of frightening black-and-white images—but such things, including Louis' evident sexual indiscretions, remain hidden beneath the family's outward appearance of respectability.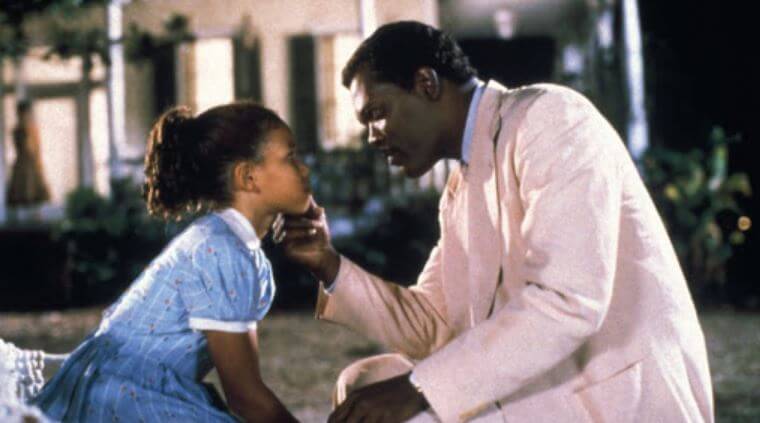 However, Eve begins to question the carefully constructed family veneer after the events of a community party at the Batiste home, which is nestled amid weeping willows and swampland. Eve steps away from the commotion and falls asleep, only to be awakened by the sounds of her father engaged with another woman, Matty Mereaux (Lisa Nicole Carson). She tells Cisely what she saw, but her sister, entrenched in father worship, refuses to believe it. Cisely presents an alternate series of events, visualized in a mirror, which demonstrates how far the character will go to alter her own memories in convenient ways. Even so, Eve's suspicions about her father continue, especially when she accompanies him on house calls; he sends her along while he stays behind to treat a woman in bed. "To a certain type of woman, I am a hero," he explains. "I need to be a hero." These tensions between sisters, between parent and child, between husband and wife, amplify over the course of the story. The crucial moment comes when Cisely makes a confession to Eve about something that happened between her and their father one night, and Eve decides to act. 
When that particular thread is pulled, the family begins to unravel. It's unclear what actually happened between Cisely and her father, though Lemmons' screenplay offers at least two explanations, both confronting and emotionally devastating in their own ways. In either case, the story's tragic conclusion leaves scars on the family legacy and Eve's memories. But the scar tissue on the Batiste family is thick, from the origins of their name to the more recent history, evidenced by Mozelle. Morgan gives a sorrowful, intricate performance as a doomed woman who's able to accurately see the futures of others, except those of the men she loves. One suspects that she may end up like a local witchdoctor, Elzora (Diahann Caroll), who lives on the outskirts of town and maintains a fortune teller's tent at the marketplace. Eve resolves to visit Elzora when she suspects the worst of her father, setting into motion a series of events that end with Matty Mereaux's cuckolded husband (Roger Guenveur Smith) seeking revenge. 
As the spiritual and more grounded elements of the story swirl about, the narrative is catapulted forward by Smollet's performance as Eve. What an uncommonly terrific child performance she gives. It never feels like Smollet is reading lines or play-acting for the camera, as it often does with young performers. Rather, she offers a natural character whose energy and charm make every emotion, whether it's the simple infighting with her sister or the sense of betrayal she feels toward her father, seem genuine. Meagan Good is also exceptional, navigating among Cisely's states of jealousy, defiance, and anger with all the self-absorption of a confused teenager. But then, Eve's Bayou is a film brimming with superb performances. Even Jackson manages to evoke sympathy as a flawed and selfish man; he carefully avoids turning his character into an outright predator, even though Louis' final letter of explanation brings about knotty feelings of fatherly devotion and betrayal. Lemmons' script allows her characters to exist between polarized moral extremes, where their actions remain uncertain and conjure a rush of emotion, and it proves to be meaty material for her actors.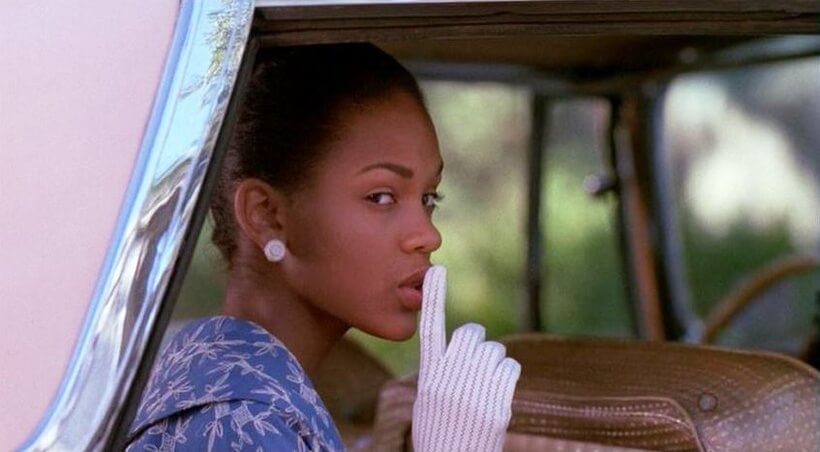 Eve's Bayou is Lemmons' directorial debut. At the time, she was probably best known for playing Jodi Foster's friend in The Silence of the Lambs (1992) or Virginia Madsen's friend in Candyman (1995). She's had a more successful career behind the camera, following this with the equally mysterious The Caveman's Valentine (2001), then Talk to Me (2007), Black Nativity (2010), and last year's Harriet. One of the most successful independent films released in 1997, Eve's Bayou was made for $3 million and returned over $14 million at the U.S. box office, in part because of its excellent reviews, in part because Samuel L. Jackson, who served as producer, had become a familiar name in both Black and white households. Roger Ebert, who named the film the best of that year, wrote, "If it is not nominated for Academy Awards, then the academy is not paying attention. For the viewer, it is a reminder that sometimes films can venture into the realms of poetry and dreams." Alas, the Academy was not paying attention, though the film received seven NAACP Image Award nominations and Lemmons earned the Director's Debut Award from the National Board of Review. 
Beautifully shot by cinematographer Amy Vincent, Eve's Bayou contains textured images of a vivid and detailed community—a place with a history, not a movie set constructed of quickly assembled façades. Terrance Blanchard's score, although less expressive than his work with Spike Lee, haunts the picture, sometimes adding the jazzy pluck of Eve's perspective, sometimes echoing the many cultural influences sewn into this community. And while it's a distinct film by a Black filmmaker about a uniquely Black experience, some critics at the time felt the victory of Eve's Bayou was that it supplied a crossover experience between Black and white audiences. Rather than suggest that its storytelling spoke to the inherent universality of filmmaking regardless of its origin, critic Andrew Sarris attempted to downplay the film's Black identity in favor of something more mainstream, meaning "white," according to scholar Mia Mask. "To hail Eve's Bayou as the best African American film ever would be to understate its universal applicability to anyone on this plane," wrote Sarris. Nevertheless, Eve's Bayou maintains a quietly celebrated legacy, not as a crossover film, but as an abundant work by a Black woman who captured the attention of a wider audience with a story about race—just not in the manner to which audiences were accustomed.  
To be sure, Lemmons deepens the usual forms of racial representation in the 1990s, giving audiences not an alternative to the urban settings or gang culture that dominated Black cinema in the decade, but another intricate layer to the Black experience then embraced by mainstream Hollywood. In that sense, the film was far ahead of its time. It belongs on a shortlist of films, including Julie Dash's Daughters of the Dust (1991) and Cheryl Dunye's The Watermelon Woman (1996), that expose another dimension beyond the male-centric voice of Black filmmakers from the 1990s. Most exceptionally, Eve's Bayou avoids falling into stereotypes of racial representation, while also resisting simplistic narrative or emotional beats. By the end, nothing about the story feels settled in the mind of its protagonist. Eve's family has secrets, raising questions that will forever remain lost in time or inadequately remembered. Their stories will be passed down like myth, from one voice to another. Eve's Bayou reminds us that memory is selective, and so is the past.  
(Note: This review was suggested by supporters on Patreon.)
---
Bibliography: 
Cho, Seongyong. "Haunting Magic: On 'Eve's Bayou,' 20 Years Later." 12 April 2017. https://www.rogerebert.com/far-flung-correspondents/haunting-magic-on-eves-bayou-20-years-later. Accessed 14 Oct. 2020. 
Ebert, Roger. "Eve's Bayou Movie Review and Film Summary (1997)." RogerEbert.com. 7 Nov. 1997. https://www.rogerebert.com/reviews/eves-bayou-1997. Accessed 14 Oct. 2020. 
Ellison, Mary. "Echoes of Africa in 'To Sleep with Anger' and 'Eve's Bayou.'" African American Review, vol. 39, no. 1/2, 2005, pp. 213–229. JSTOR, www.jstor.org/stable/40033649. Accessed 15 Oct. 2020.
Gateward, Frances. "Eve's Bayou." Black Camera, vol. 13, no. 1, 1998, pp. 7–7. JSTOR, www.jstor.org/stable/27761508. Accessed 15 Oct. 2020.
Mask, Mia L. "Eve's Bayou: Too Good to Be a 'Black' Film?" Cinéaste, vol. 23, no. 4, 1998, pp. 26–27. JSTOR, www.jstor.org/stable/41689077. Accessed 15 Oct. 2020.