Director

Cast

Rated

PG-13

Runtime

93 min.

Release Date

05/22/2009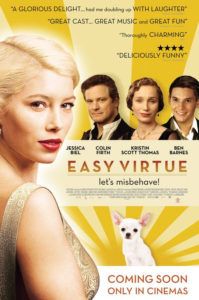 Based on the 1925 play by Noël Coward, director Stephan Elliott's reworking of Easy Virtue takes a scathing look at the British countryhouse lifestyle from a pointedly American perspective—first in terms of where our sympathies dwell within the story, second in terms of the hipster Americanization of the production. Blithe and farcical, the anti-Anglophile tone and mild post-modernism of the picture may feel divergent for a British production by Ealing Studios, but the smarts therein and a joyously happy ending make up for whatever inconsistencies there may be.
Coward's witty satire takes its time to set the stakes of the ensuing charade, but once the going gets along, it really gets going. Jessica Biel plays 1920s American racecar driver Larita, who hastily marries into the stuffy English family the Whittakers through their only boy John (Ben Barnes), by virtue of impulsive young love. Visiting their countryside estate for what's supposed to be only a day or so, Mrs. Whittaker (the waspy Kristin Scott Thomas) doesn't want her boy to leave and makes every effort to keep him home, with or without his new "floozy" wife. Meanwhile, Colin Firth plays the morose and sarcastic Mr. Whittaker (Will he ever play a happy character?), whose grubby beard and perpetual robe indicate that he's given up on existence, defeated by his monster-of-a-wife. He's Larita's only friendly face in a family of suspicious eyes.
The free spirit of the new daughter-in-law rub the Whittakers in every wrong way possible. Larita, unintentionally, of course, causes the death of the annoying family pooch, embarrasses John's homely sisters (Kimberley Nixon and Katharine Parkinson), and makes a scandal in the community—though, there was nothing unintentional about her riding a motorcycle on the fox hunt. Mrs. Whittaker wants her out, whereas her husband, also a family reject from his philandering past, thinks the American girl adds some much-needed spice to the repressive home. John doesn't know what to think, and being home again makes him second guess his love for his wife, who will clearly never fit in. His responsibilities of maintaining the Whittaker line and dwindling family estate, which his mother reminds him of continuously, begin to outweigh his puppy love.
Strange soundtrack choices distract from the otherwise straight-arrow period comedy antics. Pop-music producer Marius de Vries worked with Elliot for a specific classic-meets-contemporary sound, enlisting the surprisingly good voices of stars Barnes, Biel, and Firth on versions of "Mad About the Boy" and "A Room with a View". Some of the songs were written by Coward himself, notably "Mad Dogs and Englishmen" and "Mad About the Boy", and fit nicely into the scheme of things. For others, vocalist Andy Caine takes on vintage-sounding editions of modern tunes like "Car Wash" and "Sexbomb", which play as though they've come straight from the jazzy days of the Roaring Twenties. As merry as these latter songs may be, they divert from the scenery they overlay because of their post-modern approach in an otherwise wholly conventional production.
Elliot, whose short list of credits includes The Adventures of Priscilla, Queen of the Desert, brings the story to life somewhere between the staidness of a Merchant-Ivory production and the wild flamboyance of Baz Luhrmann. But he doesn't have much competition with our memory banks, unlike other Coward works (such as Brief Encounter, based on his play Still Life and made into a glorious film by David Lean) that were mastered early on and could never again be adapted. The sole competition here is a 1927 silent version of Easy Virtue by none other than Alfred Hitchcock, its plot reworked into a mild thriller; it's hard to imagine where this story would be without the cutting dialogue.
Between the beautiful English scenery and the fine-tuned acting all around, Elliot makes Easy Virtue a tastefully sumptuous comedy. There are modern equivalents, namely Meet the Parents, that contain the same sense of unnerving frustration (Scott Thomas is wonderful at being an unforgivable bitch) with the family's intolerance of the outsider. But the luxurious production value and Coward's ever-sharp dialogue maintain a touch of sophistication that's largely absent from today's brand of high society comedies, if such a thing still exists.