Director

Cast

Rated

R

Runtime

89 min.

Release Date

08/22/2008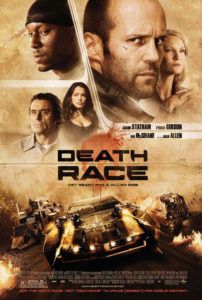 Death Race is the kind of movie where afterward you exit the theater and really debate about asking for your money back. But you realize, of course, that movie theaters make no guarantee you'll like the movie you're seeing. You then debate about writing the studio a letter. But what does that do? Frustrated, you simply must accept that 90-minutes of your life are gone. Unless by chance you read this review in time, and then you can take my warning and avoid what I've had to endure.
In the movie, Jason Statham plays Jensen Ames, a steelworker framed for the murder of his wife by crooked warden Hennessey (Joan Allen) so he'll drive in her prison's deadly auto race. You see, in the not-too-distant future, our economy breaks down and correctional facilities become private corporations that must stream live internet feed of brutalizing gladiatorial competitions to which subscriptions are sold. (This begs the question: If the economy is so bad, how can millions of subscribers fork-out $250 to watch Hennessey's event?) She offers Ames a chance to get out of prison, suggesting he take over the role of Frankenstein, a popular masked racer who the people adore but has secretly died, so he must make a comeback. In exchange, Ames can win his freedom. Teamed with his trusty mechanic Coach (Ian McShane), Ames dons the Frankenstein mask, keeping the illusion alive. On the racetrack he faces of slew of prototypical prison goons as competing drivers, his biggest threat being Machine Gun Joe (Tyrese Gibson). The movie makes a point of underlining Joe's homosexuality, and then makes fun of him for it. You can just feel the film's desperation to assert itself as heterosexual.
Every element of the race plays out like a cheap videogame. Comprised of stages, the actual event takes three days. After Level One, used to wipe out your competition, participants have a day to recover. But watch out, the Level Two boss is a tough one; drivers must survive not only each other but a massive semi-truck decked-out with every weapon imaginable. There's also potential to increase their car's abilities: If drivers pass over one of the plates interspersed about the track, they may gain offensive guns, defensive napalm or smoke, and other potential advantages. And if Ames eats a mushroom he'll grow taller; a flashy flower, and he'll throw fireballs; and if he finds the feather, he suddenly appears in a raccoon outfit in which he can fly. No, not really.
I imagine writer-director Paul W.S. Anderson spends most of his time playing videogames. What other explanation is there for his fanatical obsession with adapting their dull plots to the screen? Examples like Mortal Kombat and Resident Evil should suffice. But what's his excuse here? There's no videogame source, rather just the 1975 cult actioner Death Race 2000 where contestants in a cross-country race get points for running over pedestrians ("Bye-bye Baby! Hello 70 points!").
Slop movie legend Roger Corman produced both films, so I suppose camp is expected. Then again, this isn't camp; it's a multi-million dollar studio production. It sure resembles one of Corman's old prison films, though, where every woman is a "hottie" and men engage in uncountable homoerotic stare-downs. Anderson's treatment of women is more degrading than five minutes of any Grand Theft Auto game. Each male racer is accompanied by a weapons mechanic in the passenger seat; for some inexplicable reason these co-pilots are dropped off from the women's prison. No different than the female inmates from Corman's 1971 smut flick Women in Cages, the women's prison inmates are scantily clad with impossibly thin hips disproportionate to their gigantic busts. They look like models with makeup that never smears and well-treated hair, not that the camera removes itself from their rumps long enough for anyone to notice.
How Anderson conned his cast into this dribble is beyond me. Statham's appearance is no surprise, as he's been in every bad action movie from Crank to The Transporter series for the last few years. But what is Joan Allen, the classy presence so incredibly felt in pictures like The Contender and Pleasantville doing here? She ostensibly plays her same role from The Bourne Supremacy and Ultimatum, standing around watching videoscreens and barking orders like "Get him!" Granted, her role affords her worship playing a cast-iron bitch-of-a-warden, shot from plenty of low angles to give her authority. Another curiosity is McShane, best known as the foul-mouthed crime lord Swearengen from Deadwood, whose appealing presence is completely squandered by a laughably bad leap over the dreaded Fourth Wall.
The movie ends up an obvious combination of other F-grade movies, starting with its source; from there we have The Running Man, The Road Warrior, and The Condemned. All are stripped down for their spare parts and reassembled into a big stupid monster called Death Race. Driving in circles over and over, blasting guns, and hearing the same aggressive, overcompensating dialogue gets tiring unless the result actually goes somewhere. A movie like this serves only one purpose, besides gratifying those in the audience hungry for jagged doses of explosive and over-edited car chases: By offering mind-numbing end-of-summer lows, it prepares us for the autumn and winter seasons where movies generally develop a brain. Won't it be nice, to actually think during a movie instead of reaching for a game controller that's not there? Oh, how I wish there was a pause button on this film.