Director

Cast

Rated

PG-13

Runtime

98 min.

Release Date

10/26/2007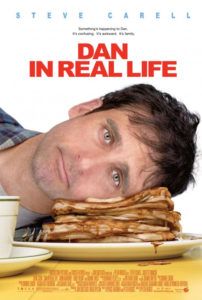 Steve Carell plays Dan Burns in Dan in Real Life, a cozy comedy about family responsibility. It manages a bubbly tone despite being about a morose character. It doesn't pretend that life is perfect or that we always get what we want, rather that we should focus on the love we have or can make in our lives. Sometimes it works out, sometimes not. And that message might be typical for knowing comedies about life (see The Royal Tenenbaums or Little Miss Sunshine), but it's a durable one.
As a family advice columnist, Dan is a pillar of morality. He advises parents on raising healthy, loving children in healthy, loving families. We soon learn that Dan, who has been a widower for four years now, could use some parenting counsel himself. His eldest daughter Jane (Alison Pill) is seventeen and desperate for driving lessons in preparation for her behind-the-wheel exam; Dan is hesitant to teach her, claiming it's too dangerous out there on the road. He's barred his daughter Cara (Brittany Robertson) from seeing her true love and she hates him for it—in the temporary way all teenagers hate their parents, despite calling him a "murderer of love." That's two daughters down. Dan's third, Lilly (Marlene Lawston), is his youngest, but with the help of her sisters she's growing up a little too fast.
A trip to Dan's annual family get-together at the home of Nana (Diane Wiest) and Poppy Burns (John Mahoney) in Rhode Island involves disallowing Jane to drive, ripping Cara away from her would-be love, and treating Lilly like she's three. When they arrive, Dan's daughters aren't talking to him. His lighthearted family waves it off, happy that they're all together again. Uncountable brothers and sisters, their children and spouses pack into Nana and Poppy's massive, picturesque "cottage" (which is, of course, bigger than the average two-story home) with sleeping arrangements accommodating to everyone but Dan, who has to sleep in the washroom with the dryer clanging.
Just when we begin to think Dan is perhaps too lonesome and sarcastic to be capable of finding love again, he meets Marie (Juliette Binoche) in a book store. They flirt, and he convinces her to have a cup of coffee. What proceeds is one of those long conversations where people fall in love within minutes. She has to run suddenly, so he gets her number. He returns to the family reunion awestruck with love, then becoming even more awestruck when introduced to Marie, the new girlfriend of his brother Mitch (Dane Cook). Oops.
Peter Hedges wrote and directed the film; his past work includes the novel and screenplay for What's Eating Gilbert Grape. Families would seem to be his specialty, specifically dysfunctional ones. But there are no shut-ins or tragedies in Dan is Real Life; our biggest bummer is Dan's glumness. Like Hedges' other work, this is a comedy of errors. Dan and Marie desperately try to make each other jealous, getting closer and closer, all the time maintaining that their initial meeting never occurred. I was reminded of Meet the Parents, as the comedy plays out in a Why is he doing this! way. Dan behaves incalculably bad when he sees Mitch and Marie touching or wooing each other; he's unable to control his envy and sexual frustration, which, after four years of being alone, peeks in what appears to be a hopeless romantic quandary. If Marie were with any other man, certainly there would be no dilemma, but since Marie is with Mitch.
Carell has been hit-and-miss in movies thus far. I loved his nuanced, quiet, sarcastic performance in Little Miss Sunshine; but Evan Almighty was one of the most god-awful pieces of commercial dreck I've seen in years. Dan's languished, hushed cynicism is perfectly suited to Carell's strengths. I think in extroverted roles, Carell is too hammy—he recalls the worse parts of Jim Carrey-type overacting. When he turns the volume down and allows his biting humor to be whispered in your ear rather than shouted through a bullhorn into your face, he can be quite good.
There's also tenderness here, since the family seems to take Dan's increasing frustration with a grain of salt. They're loving enough that we know even his daughters, who are ignored throughout Dan's ravenous escapade to capture Marie for his own, will excuse him. It's those accepting, tolerant moments where Hedges succeeds in making The Burns Family our own for 96-minutes, achieved via sometimes hokey plot developments and resolutions, which are quickly forgiven after an authentic laugh. Dan in Real Life manages warmth, humor, and perhaps a more positive outlook than Hedges' other pictures.