Director

Cast

Rated

PG

Runtime

93 min.

Release Date

08/08/2007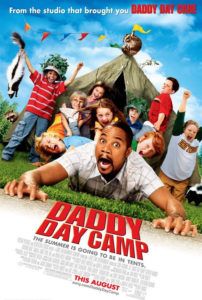 Troubled that there aren't enough poop jokes in movies today? Can't seem to get enough vomit humor? Do you sometimes wonder, Why isn't there more farting in modern film? Well, moviegoers, have I a surprise for you! It's called Daddy Day Camp, and boy does it stink! A sequel to the 2003 Eddie Murphy comedy Daddy Day Care, this is one crappy (pun intended) movie that even Eddie Murphy wouldn't do. And when Eddie Murphy turns down your movie, that's when you know to throw in the towel. Instead, producers hired Cuba Gooding Jr. to fill Murphy's shoes as Charlie Hinton, a dad who has every intention of being the best father ever. And there's nothing like desperate smothering to win a child's affections. Along with his fat friend Phil (Paul Rae, formerly played by Curb Your Enthusiasm star Jeff Garlin), Charlie decides to expand his daycare business to day camp.
Camp Driftwood was Charlie and Phil's old stomping ground as kids; now it's a run-down junkyard. Always the optimist, Charlie wants to make his son Ben's experience at summer camp different than his own, which was made a disaster by his controlling father. When he was a boy, Charlie hated camp. He hated bugs. He hated the outdoors. And he especially hated Lance, the kid who beat Charlie in the all-too-familiar Big Race, here dubbed the Olympiad. Charlie's father, Col. Buck Hinton (Richard Grant) sucked all the fun out of Charlie's camp experience with his military ways. Charlie certainly won't let that happen to Ben at Camp Driftwood.
Even after fixing the place up, a disastrous opening for Camp Driftwood puts its attendee numbers in decline. The seven remaining ragtag kid-campers at Driftwood are the same group of stereotype characters found in every camp movie ranging from Meetballs to Ernest Goes to Camp (everyone except Jason Voorhees, sadly). There's the fat kid, the nerd, the jock, the smartypants, and so on. Not-a-one of them enjoys Charlie's version of Driftwood, so he has no choice but to call on his military-driven father to bail him out.
The bank intends to foreclose on Charlie's house and camp. If only Charlie could somehow increase attendance… The rival rich-kid camp named Canola is run by Charlie's childhood competition Lance (Lochlyn Munro), who might just be the devil, though I can't be sure. Charlie enlists his camp in this year's Olympiad, hoping that if parents see how well Driftwood campers work together, they'll transfer their kids, solving Charlie's money problems. As Driftwood and Canola prepare, you can be sure there are training session montages showing children doing jumping jacks and so forth, and when it's all over, father-son issues will be resolved abound.
Two writers came up with this story, and it took not one, not two, but three writers to get this screenplay onto paper. Based on its scatological and gastrointestinal humor, you might think Daddy Day Camp was written by five ten-year olds. I checked, however, and all five "creative" minds are, in fact, adults. I expected to find that at least one was in pre-school. Alas, no luck. When I saw this movie, I attended a screening that included a birthday party for a child who was, I believe, turning five. Two mothers were watching over about ten children a few rows back. Sometimes I enjoy children's movies more if the theater is packed with laughing kids. One boy laughed at a fart joke early on. After that, the theater was silent for the duration.
What goes through Cuba Gooding Jr.'s mind when he goes home from a day of filming on the set of Daddy Day Camp? I imagine he looks as his Oscar and asks himself why the hell he's still working with the same agent. There was a time, in the years between Boyz in the Hood and As Good as It Gets, where he was a capable actor. Perhaps never really worthy of an Oscar (blame the "Show me the money!" fad for that), but a strong performer nonetheless. Every Tuesday night, Cuba sits down with Hilary Swank, Marisa Tomei, and who I imagine will soon be Jamie Foxx for another round of Life with the Undeserving Oscar Club.
Directed by Fred Savage (yes, that Fred Savage), Daddy Day Camp belongs on Saturday afternoon television on Nickelodeon. That way, parents won't have to endure it and kids can switch the channel when they realize how stupid it is. It's got a good message about being yourself, but what kid's movie doesn't nowadays? With prime children's entertainment like Ratatouille and Harry Potter 5 still in theaters, I can't comprehend why anyone would even think of seeing this.