Director

Cast

Rated

PG

Runtime

100 min.

Release Date

11/21/2007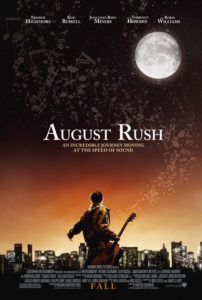 Charles Dickens might be shaking his fist from beyond the grave at August Rush, its director Kirsten Sheridan, as well as writers Nick Castle and James V. Hart for so blatantly working from Oliver Twist, yet without noting a single "inspired by" credit. The movie tells the story of a runaway orphan, who is taken in by a cutthroat leader of homeless children, only to later become an institution in and of himself. Sound familiar? The movie's Twist-like child is Evan Taylor, played by Freddy Highmore, a child actor of notable range. In the last few years, Highmore has given a number of well-played roles in movies like A Good Year and Finding Neverland. Here he plays a musical prodigy, someone who hears an ethereal tempo in a gentle wind, or rousing beats on city sidewalks. He abandons his orphanage and off he goes to find his biological parents, both musicians, with nice-guy social worker Jeffries (Terrence Howard) following close behind. Highmore's scenes drown with sensitivity and sentimentality, but oddly work thanks to his talent for authenticity.
Unlike Oliver Twist, Evan's parents are actually alive and well, just unaware their son exists. In flashbacks, we meet Evan's mother, Lyla (Keri Russell), a famous cellist with ties to Julliard. His father, Louis (Jonathan Rhys Meyers), is the lead singer in an Irish rock band that sounds like the lovechild of Dave Matthews Band and the Goo Goo Dolls. After a heartfelt night of love and love in Greenwich Village, the two are separated by Lyla's father (William Sadler), who keeps them apart for the sake of her career. Lyla discovers she's pregnant with Louis' baby, but she's in an accident before giving birth. Her father gives the child up for adoption, telling Lyla her baby died… Nice guy.
Present day. With Lyla thinking her son dead, and Louis unaware that Lyla was ever pregnant, the two remain separated, their musical output slowing with their angst. Louis lives in San Francisco, Lyla in Chicago, and now Evan has found his way to New York City, where he believes he can hear his parents, musically. Parents and progeny share this harmonious connection, linking and drawing the three closer to an eventual reunion. Meanwhile, Evan joins an all-child gang of street musicians performing around Washington Square Park, run by the street urchin overlord known as "Wizard" (Robin Williams), who's garbed vaguely like Bono, if Bono were a bum. Wizard is the film's Fagan, a selfish spinster with a talent for putting fear, and yet trust, in the hearts of children. There's even an Artful Dodger as Wizard's right-hand boy; he's named Arthur and played by Leon G. Thomas III. With Wizard, Evan's lifelong dream of playing music becomes a reality, and in realizing Evan is a boy-genius with all things music, Wizard gives Evan the stage name "August Rush" (which doesn't hurt in disguising Evan from child services).
Oliver, er, Evan, er, August taps on the neck of a guitar, creating ghostly sounds while simultaneously plucking away. Fagan, er, Wizard sees an opportunity to exploit the boy, who is a clear musical genius. The willing August just wants to play—he learns scales, how to play the piano, and how to write music in one afternoon. The more people for whom he plays, the more likely his sound is to spread, eventually getting to his parents and bringing the family back together. Seems reasonable enough. And soon, all of Julliard stands in as Dickens' wealthy savior Mr. Brownlow, ignoring the fact that Evan has no home or family, and forgoing what should have been a call to child services or maybe the police department. Instead, they allow August, a lost and homeless boy, to perform a concert.
Now I'm no expert on musical composition (though I do go through streaks of Beethoven fanaticism), but August's eventual concert sounds less like the work of a prodigy and more like a Lifetime Channel original feature's score—making it laughable when everyone at Julliard is blown away by what they hear. The expansive music selection, impressive only during August's solo performances, is composed by Mark Mancina. This movie has its problems, notably ringing-out every ounce of potential sadness from Dickens' story, leaving us with an incredibly happy, clean piece of filmic rag. The ending is exceedingly joyful, rendering itself as silly and unbelievable to even the most casual skeptic. We're bombarded with sappiness, through which we sift to find a sometimes adorable little story—but that's not exactly Dickens' point. Anyone reading similarities between the two will thus see the film as fantastical, if not awkward, with profuse amounts of tenderness.