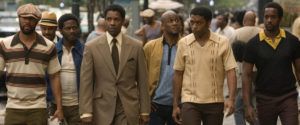 American Gangster
4 Stars
Director

Cast

Denzel Washington

,

Russell Crowe

,

Ted Levine

,

John Ortiz

,

Josh Brolin

,

Chiwetel Ejiofor

,

Norman Reedus

,

Ruby Dee

,

Lymari Nadal

,

Cuba Gooding Jr.

Rated

R

Runtime

157 min.

Release Date

11/02/2007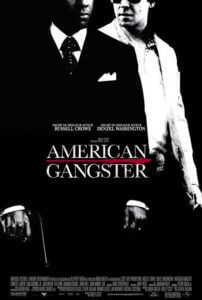 Ridley Scott's has made an instant crime classic with American Gangster, a film to be compared to the likes of Brian De Palma's Scarface and The Untouchables in its humanized depiction of both criminals and cops. The picture offers dual portraits of its title character Frank Lucas, played with pitch-perfect criminality by Denzel Washington, and of its Serpico-esque cop Richie Roberts, played with equally perfected idealism by Russell Crowe. For two-and-a-half hours, these two grand actors don't share a single scene, building to a finale where, unlike so many other gangster films, the good guy and bad guy converse, rather than resolve their film-long conflict with a bloody shootout. This unlikely filmic closure underlines the entire film's respect for the two real-life characters.
Frank Lucas begins as the driver for Ellsworth "Bumpy" Johnson, a legendary gangster who was a sort of folk hero for Harlem. Working with and for the Italian Mafia, Bumpy's honorable reign is all but forgotten when he dies of a heart attack in 1968. Having been Bumpy's driver for fifteen years, Lucas learned a plethora of business tact and refuses to reduce himself to his competition's lows. On his own, he becomes an entrepreneur in the true American sense. Lucas became famous in the late '60s and '70s for his innovations on common importation practices of heroin. Traditionally, middlemen drive up costs, hoping to expand product by cutting and dropping its purification. These are competitors like Nicky Barnes (Cuba Gooding Jr.), who deck themselves out in flashy duds, fur coats, and gold-rimmed sunglasses, announcing their own criminality with everything but a bullhorn. They sell cheap drugs at high prices, caring nothing about their community, family, or self-respect.
Lucas travels to Vietnam himself, buying hundreds of completely pure kilos for cheap, then sells a better product for a lower price by cutting out the middleman. He works with people he can trust, namely his family: five brothers and countless cousins. Every Sunday, he takes his mother to church. And when people cross him, he doesn't hesitate to shoot them in broad daylight, knowing Harlem backs him because he backs Harlem. Payoffs, dealers, transportation, and everything in-between create thousands of jobs; at one point, a cop defends not hitting at Lucas' operation, worried how many jobs will be lost in the process. But Lucas' profile remains low so that few cops know his name, unlike Mafia men who are known yet remain untouchable because they pay off the right people.
Detective Richie Roberts is not one of those cops on the take. He's shunned when the film begins after finding $1 million in cash and not taking it. Other officers see Roberts as a hazard, since his good morals (god forbid) threaten their thousands of dollars in received bribes. Roberts could threaten and steal from dealers rather than arrest them, making himself some money like the corrupt Det. Trupo (Josh Brolin). Instead, he holds fast to his principles even after being ostracized. Roberts is no icon of morality, however—he is a poor father, a worse husband, and a womanizer—just as Lucas' criminal nature prevents any guiltless admiration. What makes both Roberts and Lucas great are what they work towards. Roberts builds on a special narcotics assignment, looking for high profile arrests of drug syndicate leaders, not their petty dealers. Sifting through Mafia leads, Roberts finds Lucas, a quiet and barely visible presence on the street. The case is his passion, just as the drug business is Lucas'. As viewers, we can't help but admire these men for their comparatively decent conduct within corrupt institutions.
Their appeal derives in part from the actors behind them. Washington lends Lucas the needed appeal, making him at times frightening, and yet sympathetic in a way that frightens us. Washington is the likable personality we've come to know in a dozen film, but also the scary side he recently revealed in Training Day. He's bold, sometimes loud and fierce and violent, but he remains likeable in a way only Washington could make him. And Crowe is likewise ideally cast, reminding audiences how sensitive and subtle a performer he can be. The two previously starred together in Virtuosity, back before L.A. Confidential in 1995 when Crowe was barely a name in Hollywood—how much both actors have grown since that happily forgotten sci-fi yarn.
American Gangster is not the "Black Scarface" or "Harlem Godfather" as Peter Travers of Rolling Stone suggests. Scott's picture is careful not to suggest that crime pays, as The Godfather films do. Crime and policing aren't dirty. We're sympathetic to both parties; in scenes with either cop or criminal we devote ourselves to the subject, and knowing how one character cannot function while the other is in place, we dread the moment when the two eventually clash. The film notes admiration for noble principles and then cuts Lucas' strong business sense and morality with the results of his industry: drug addiction, squalor, and death. We know when the film ends which side is just and also that neither side is wholly righteous. Considering which side takes the greatest blow in the finale, the film's facts provide its most shocking and ironic turns.
Steve Zaillian (Schindler's List) reportedly used an article written by Mark Jacobson entitled "The Return of Superfly" published in New York Magazine for factual inspiration. Universal Studios recently received guff from the magazine for calling American Gangster an "original" screenplay, as opposed to "adapted" from previously published material. According to the Writers Guild of American, the current credit is sound, since all writers derive inspiration from somewhere. The film is said to be "based on a true story", and goes further than the original article, including the character Richie Roberts (more than half the movie). Apparently New York Magazine requires a bibliography from screenwriters, noting sources; perhaps if they appeal, the WGA will pass a rule requiring in-film citations. But I digress…
Ridley Scott shapes a wonderful motion picture here, with his typically visual-heavy style never too intrusive, but handled with skill and precision. He has worked in almost every genre, and whatever genre he explores, it's always with unparalleled craftsmanship. He created a staple of science fiction with Alien, uniquely blended sci-fi and neo-noir on Blade Runner, delivered a con-artist comedy with Matchstick Men, explored romance with A Good Year, and his Gladiator and Kingdom of Heaven reinvigorated the swordplay epic. Here, his massive crime story transcends its liken predecessors by digging deeper into character studies. We revolve around two men that are, cleverly, the same, just on opposite sides of the street.