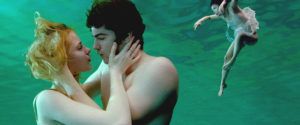 Across the Universe
4 Stars
Director

Cast

Rated

PG-13

Runtime

133 min.

Release Date

09/28/2007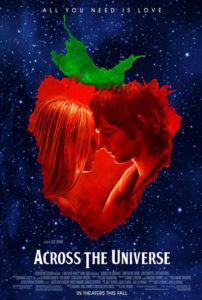 There was a beautiful moment in the first ten minutes of my screening of Across the Universe where I stopped resisting the setup and allowed the music and bold visuals and romantic plotting to take over. As a devout fan of The Beatles, anytime their music isn't their music—say on those terrible "Hello Goodbye" Target commercials—I cringe. Should sacred territory ever be tread on, I've got a few angry words for the sellout who abuses it. And yet here, in this daring musical by visionary Julie Taymor, changing the Fab Four's original compositions renders multilayered narrative meaning, adding more joy to already joyous music.
The concept is deceptively complex, meaning wholly simple. It tells a story of romance and revolution set against the backdrop of the 1960s. We see the Detroit riots, Martin Luther King Jr's assassination, and the birth of modern rock all come to be, and all through Beatles tunes. But its center is not dialogue with the occasional background song; rather every plot point is advanced or underlined, but never forced forward with The Beatles' music
Characters are named with Beatles references. Our main character is Jude (Jim Sturgess), a Brit who escapes his droll life to find himself in America. Jude's eventual love is Lucy (Evan Rachel Wood), whose high school sweetheart is shipped off to Vietnam. Lucy's brother Maxwell (Joe Anderson) drops out of Princeton, only to be drafted himself. They all move to Greenwich Village in New York City, meeting up with Janis Joplin-copy "sexy" Sadie (Dana Fuchs), lovelorn lesbian Prudence (T.V. Carpio), and Jimi Hendrix strummer Jo-Jo (Martin Luther McCoy).
It's staggering what these songs covey. Since we know and love and have likely heard them a hundred times, how surprising it is to find the melodies carry newly added meaning thanks to Taymor's visuals and context. Jude sings "Revolution" to Lucy, now an anti-war advocate, speaking to her outward political motives, but also to his own sense of loss as she dedicates herself to her quest. Max turns "Happiness is a Warm Gun" into a variation on the bittersweet imagery originally implied by John Lennon: that the gun is a heroin needle, only here it is Max's postwar morphine dependency.
The Beatles' music employs a considerable foundation, sustaining the story, which admittedly isn't difficult or original. It's rather simple, superficially. Writers Dick Clement and Ian La Frenais (who also worked together on Flushed Away and Still Crazy) succeed foremost in making the narrative seem unforced or awkward. It's all very plausible, supported with (obviously) strong music and historical allusion. There aren't moments where we feel a song is misplaced or flowing unnaturally. And since most of the music was meant to reflect the film's chosen era anyway, it avoids Moulin Rouge-type historical inconsistency.
Those familiar with rock and roll history or Beatles cover tunes will want to keep their eyes open for a couple of cameos: Joe Cocker takes on a triple role when he sings "Come Together" as a bum, an eye-liner wearing pimp, and wacked hippie. And U2's lead singer Bono plays Dr. Robert, who insights the film's psychedelic period as "The Walrus".
Things you won't see in Across the Universe: Maxwell bopping innocents on the head with a silver hammer (which he does have, just never uses in that manner); Jude and friends taking a yellow submarine trip into an octopus' garden; a sudden flash to the Old West where Rocky Raccoon finds religion in Gideon's Bible; a Brit actress named Honey Pie becoming a Hollywood star; someone and their monkey hiding nothing; or a French belle named Michelle being courted… If you're still trying to figure out the references, I suggest you head over to Amazon.com and start ordering The Beatles' catalogue
Taymor, famous for her now-legendary choreography on the Broadway production of "The Lion King", as well as the movie Frida (one of the best filmic portraits of an artist to come out of Hollywood), imbues Across the Universe with consummate imagination. Take Eddie Izzard's circus manager Mr. Kite, whose self-referential song sequence is like Terry Gilliam's Monty Python animations. Or Max's induction into the army, which is filled with multiple Uncle Sams crying "I want you" and American soldiers lugging the Statue of Liberty on their backs, laboriously singing "She's so heavy."
For fans of John, Paul, George, and Ringo—and really, who isn't?—this film is a must. Taymor's unique visual style brings full life to every moment. Her imagery is stark and emotionally simplified, bellowing out an unparalleled style for the modern musical, one that thanks to the song selection brings a welcomed enjoyment to something that really shouldn't work. It should seem cliché or obvious, when in reality it's anything but. The fact that it does work is a testament to the director and writers for making it believable, and the actors for carrying tunes I would otherwise say it's criminal to cover.