Director

Cast

Rated

R

Runtime

103 min.

Release Date

06/22/2007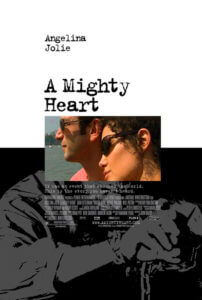 If you paid attention to the news the months following 9/11, which everyone did, you already know how A Mighty Heart ends. As soon as we hear the name of Wall Street Journal correspondent Daniel Pearl (played by Dan Futterman), we remember what ultimately happens. In Karachi, Pakistan, Pearl was taken by terrorists, held for a time, and eventually beheaded. But the end of the story is not the point, since this was a heavily publicized story here in the U.S., and viewers know the outcome; more than a kidnapping plot, this is a character drama about hope.
Based on the book by Daniel Pearl's wife, Mariane Pearl (Angelina Jolie), the movie tells a sad truth about Karachi, a city where streets are crowded and dangerous for American journalists. What's more, Daniel Pearl was Jewish, but not publicly so, just enough so that given a few clicks on the internet, some terrorist might find out. Mariane is visibly pregnant, as you may remember from her appearances on television after-the-fact. Her will is strong after her husband's kidnapping; she never turns into the distraught wife, sappily clinging onto authorities to get her husband back. She becomes a tough, dignified woman. So much so that characters in the film point out how you'd never know her husband was kidnapped.
After Pearl's abduction, it's said that the Wall Street Journal's possesses a terrorist's computer, and eventually handed it over to the CIA, suggested to Pearl's kidnappers that he was a CIA spy in Pakistan. We're shown rampant suspicion by both terrorist and government officials in Pakistan, believing not only Pearl, but his Indian friend Asra to be spies. This slows down the investigatory process, which is coupled in part by candid flashbacks delivered by director Michael Winterbottom's sincere camera. We see all the beauty, camaraderie, and frightening distrust held by the Pakistan people—all giving them a whimsical power over any visiting outsider.
Jolie, surprisingly, gives a dignified performance. Even though this film is a star vehicle, produced by her boytoy Brad Pitt, Jolie doesn't seize every scene for her own Academy Award consideration (many forget she's already received one Oscar for Girl, Interrupted, and an undeserved one at that). She's done-up to resemble Mariane Pearl, a Cuban-Frenchwoman. Jolie sports black curly hair, dark brown eyes, and a French accent that at times is impressively good, at other times recedes. Toward the end, after Mariane discovers the horror of her husband's fate, I was admittedly taken out of Jolie's performance by her reaction. A loud initial wail sounds off and Jolie hunches over on the floor. At first shocking and heart-wrenching, the cries continue. We begin to suspect this is the one moment Winterbottom has allowed Jolie to grandstand; she takes near over-the-top advantage of it.
Winterbottom, whose past films include the wonderful Tristram Shandy: A Cock and Bull Story and 24 Hour Party People—both films walking the line between fiction and documentary—applies his well-used dynamic to Pearl's story. Winterbottom's documentary-style atmosphere weeds out sensationalism, telling this heartbreaking story through the eyes of Mariane. The idea of plot never occurs to us; this isn't a political thriller akin to Patriot Games or the like, it's a tragedy.
At times, A Mighty Heart falls into the same trap as the well-made but emotionless United 93, another 9/11-oriented film that approached the subject with a little too much objectivity. We stand around a room at times listening to names of suspects and witnesses being prattled off as if they're second nature to us, only they're not. Because Mariane is so strong, she shows little, leaving much of the emotion assumed. Frankly, I prefer assuming emotion above the over-emotionalized heartstring pulling of a film like World Trade Center, but it left me disconnected nonetheless.
We get but glimpses into Daniel and Mariane's past, leaving us with a few mere images of their love, watching them as if reviewing home videos. If given only a few minutes in the film's opening to share their love, I might have been drawn in and affected more as it progressed. As is, even with all the clever subtleties of Winterbottom's direction, we never learn about the man who was kidnapped and killed, therefore the impact is narrow in cinematic terms.