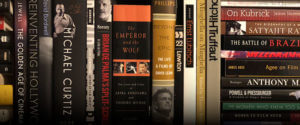 Membership Benefits on Patreon
Dear Readers,
Writing about movies on Deep Focus Review (DFR) has been an integral part of my life since 2006. And now with Patreon, I have been able to share my love of film with contributing members. It is my hope that if you visit this website regularly, you will consider becoming a member on Patreon to help keep the site going strong.
Contributing on Patreon offers several membership benefits such as access to exclusive content, a chance to influence the type of reviews and articles that appear on the site, and the opportunity to commission a review or essay (depending on your level of contribution). When you become a member on Patreon, you get access to exclusive movie reviews, editorials, and streaming recommendations. You can also vote in regular polls to determine what I write about on the website, such as the monthly poll on the next entry in The Definitives. Also, I'm currently in the process of developing a podcast that will have Patreon-exclusive episodes, with a launch date planned for June 2019.
My initial goal is for contributions to reach $250 a month. When that happens, I will self-publish a book of essays. All Patrons will receive a digital and print copy of the book (shipped to you for free), which will include an introduction, original essays, plus several entries of The Definitives. When I reach $500 a month, I will add additional Patreon rewards, as well as develop additional enhancements to the website.
Here's a breakdown of the membership benefits.
STAR ($1 a month).

Exclusive access to DFR's Patreon-exclusive blog, including:

Patreon-exclusive reviews, blogs, and ever-developing Top 10 Films of the Year list

Weekly streaming recommendations

Polls to determine which films will be reviewed on the website

COMING SOON:

The Patreon-exclusive DFR Podcast! 
SCREENWRITER ($5 a month).

Pick a movie and I'll review it on Deep Focus Review
Plus, all Star-level perks.
DIRECTOR ($10 a month).

Pick a movie and I'll review it on Deep Focus Review. After six months, you can commission a second review, and again every six months after that.
Plus, all Star-level perks.
MOGUL ($20 a month).

Commission an entry in The Definitives. You and I will agree on a film that deserves entry into The Definitives, and I'll publish an essay for you of 3,500 words or more.
Plus, all Star-level perks.
No matter what level of membership you choose, your contribution will be appreciated. Thank you so much for your support through the years and your continued readership.
Brian Eggert