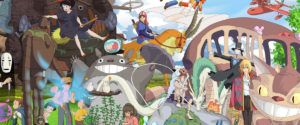 Hayao Miyazaki: Emperor of Animation
Discovering the films of Hayao Miyazaki has been one of my great joys as a cinephile. The Japanese director of cinema's best animated pictures has elevated the medium from just cartoons into a form of high art. Dominating the field of animation in his country, his output became popularized in the United States thanks to the backing of the Walt Disney Company, but his influence reaches much further. He exists as the only auteur in the field of animation, imprinting his signatures into the art and narratives of his films. This retrospective of his work will examine each Miyazaki film individually, looking at the director's themes, visual style, and production histories to reveal the common voice behind each. Through it, the hope is that you too will discover the films of Hayao Miyazaki and grow to love them as I do.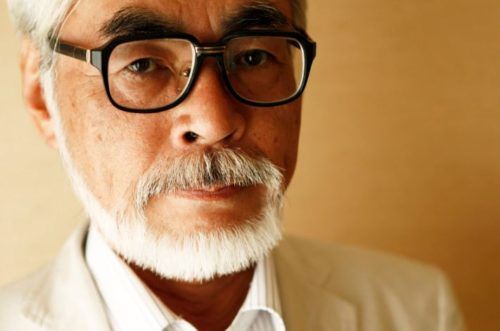 Born January 5, 1941 in Tokyo, Japan, Hayao Miyazaki grew up in a postwar setting. To forget the ruinous, bomb-riddled environment around him, he escaped into a fantasy world inspired by European writers like Lewis Carroll, Ursula Le Guin, and Diana Wynne Jones. Though he had always sketched the planes and military equipment of the U.S. Occupation around him, his interest in animation began when he saw Hakujaden (The Tale of the White Serpent, 1958) while in high school. After college at Gakushuin University, Miyazaki began work for Toei Animation, where he drew and pitched the final ending for Gariba no Uchuu Ryoko (Gulliver's Travels Beyond the Moon, 1965). Stepping his way up from assembly line artist to scenarist and designer, Miyazaki went through a range of studios (A Pro, Nippon Animation, etc.) before helming his first feature, The Castle of Cagliostro, based on the Lupin III television series for which Miyazaki had directed several episodes.
Praise and recognition of his mastery began after Nausicaä of the Valley of the Wind (Kaze no Tani no Naushika, 1984), the first original story that Miyazaki had both written and directed from his own ideas, basing the picture on his manga book series of the same name. Its success roused Miyazaki and fellow animator Isao Takahata to found the production company Studio Ghibli in 1985. Together, the animators would produce and direct Japan's most influential bodies of animated films, including masterworks like Grave of the Fireflies, Kiki's Delivery Service, Pom Poko, and Princess Mononoke. Miyazaki meticulously approved every frame in his early films, earning him the repute of a workaholic who resents anything that pulls him away from duties (possibly attributing to his rocky relationship with his son, Goro, who directed his first animated feature, Tales from Earthsea, in 2006).
Miyazaki's craftsmanship and imagination propel him above other animators, and Ghibli above other studios, but his unique approach toward narrative is what touches audiences and instills his works in our memory. His films contain profound understanding and hope for a unity between the human race and the environment, and they address the dangerous consequences of our disregard for Nature and human sympathy. Of course, Miyazaki maintains his commentaries are not deliberately imbedded into his films—that they are unconscious concerns forever on the writer/director/animator's mind—but he also insists that theme is more important than technique. Openly, his sole conscious purpose is to provide quality entertainment for children, so he writes almost exclusively for younger audiences.
Though Miyazaki intends his audience to be children, he communicates to his viewers with a tone of respect and maturity. He never talks down. He tells stories that, delightfully, resonate for everyone. His appeal is universal. Though his output is limited to a mere ten feature-length animated films, from his most fantastical adventures like Spirited Away to pure family pictures such as My Neighbor Totoro, Miyazaki has proven that animation has no limits. Only the assorted talents at Pixar Animation Studios offer a just comparison to the level of raw artistic and narrative faculty contained in his extant works.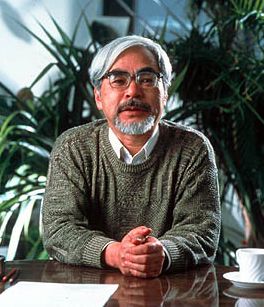 And it's largely because of Pixar's John Lasseter that the U.S. market knows of Miyazaki at all. The Japanese master's films have long inspired the Walt Disney Corporation in terms of style and content, and in a deal made in 1996 between Disney and Tokuma Publishing, the House of Mouse purchased worldwide distribution rights for all Studio Ghibli films. Lasseter personally supervised the Ghibli catalog's re-dubbing into the English language, using celebrity voices that disappear into their characters. The entire Miyazaki oeuvre was released on home video in North America, making Miyazaki's name common among anime enthusiasts, as well as aficionados of international cinema. Furthermore, Disney supports Miyazaki's latest releases and assures they receive wide distribution and Oscar consideration (in 2003, Miyazaki's Spirited Away won the Academy Award for Best Animated Feature).
Miyazaki enthusiastically approved the Disney deal, of course, insisting only that the content of his films not be changed, and they haven't been. Whatever minor changes do occur in translation are all approved beforehand by the director himself. The re-dubbing was a non-issue, since all animated films require dubbing, regardless of language; as real as Miyazaki's characters are, they still require actors to create their voices—what difference do the actors' nationalities make? Miyazaki has said that his only concern is entertaining Japanese audiences. But when his stories hold such sway worldwide, to the extent that names like Disney and Lasseter have taken great care to distribute his work, it is a mark of his influence.
I like to think of Hayao Miyazaki as the "Emperor" of animation, in the same way that the Japanese consider Akira Kurosawa the "Emperor" of live-action filmmaking. Kurosawa earned himself the title for bringing worldwide attention to Japanese cinema with classic motion pictures like Rashomon and Seven Samurai, and then sustained his name with Japan's most prolific and renowned directorial career. Like Miyazaki, Kurosawa was dogmatic and stringent about the application of his art, and he became known as "Emperor" in part for his harsh demeanor on the set. But both directors' films speak in a language of universal emotions that transcend cultural specificity. Both are incomparable masters in their fields, guiding careers of landmark filmmaking filled with iconic works treasured by audiences and historians. Miyazaki deserves the same reverence and title for gathering global respect for his ongoing body of work and enhancing the possibility of his medium.
Time and again Miyazaki has said he wishes to retire, but perhaps, much like Kurosawa, the auteur will keep toiling away on his films as long as he can. Making films is what drives him. And until the next Miyazaki animated feature arrives from Studio Ghibli, let this retrospective, an extended appreciation, inspire you to seek out the director's films. It is my hope they engage, overwhelm, and charm you as they have me.